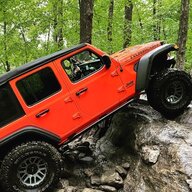 First Name

Scott
Joined

Jun 12, 2018
Threads
Messages
Reaction score

1,280
Location
Vehicle(s)

2019 JLUR in Punk'n Orange
Build Thread
Occupation

Turn Wrenches/ Write code
I figured since I've got some mods done, it's about time to start one of these.
Stats
:
2019 Jeep Wrangler Rubicon
Punk'n Orange Metallic
3.6L V6
6 Speed manual transmission
Dual tops
LED group
Trailer Tow group
Leather interior
7" Infotainment/U Connect w/ Apple Car Play
Ordered: 9/13/18
Delivered: 12/7/18
Suspension:
2.5" Rock Krawler Adventure Series w/ Twin tube RK shocks.
Tires:
37x12.50x17R Milestar Patagonia MT's on 17x9" Vision Nemesis.
Armor:
Motobilt Crusher front bumper w/ Stinger
Body Armor 4x4 full width rear bumper & Tire Carrier (coming soon)
Quadratec Aluminum Skidplate system (Engine/ Transmission, Transfer case, Fuel tank)
Rubicon Rock rails
Recovery:
Warn VR10
Hi-Lift Jack
Lighting:
Stock LED headlights/ Fogs
Interior:
Carplay2Air Bluetooth adapter (stealth installed).
Rugged Ridge Floor mats
Seven slot Spartan (?) door sill guards ($25 for the set on Amazon and they have a Jeep grille)
Alien Sunshade- Orange
Cheapo black neoprene seat covers for trail/beach duty (removed when not in use)
DIY Overhead CB Mount (Modified and Reinstalled 11/2020 as it interfered with headroom on the trail)
Two "Fat 50" Ammo cans for trail tools, Compressor
Springtail Solutions tailgate Table
Cheap Amazon Molle pouches mounted to Tailgate table for Off road/ recovery gear
Molle Medkit
Tactical Baby Gear Wipe pouch and Dump sack.
DIY soft top window sack (Thanks mom/ currently undergoing improvement)
Dashboard hockey duck (from my son, orange Jersey because they don't have teal)
Grab handle stuffed Boba Fett
Need to add a Ninja Turtle as a tribute to Surfin' Mike (RIP) who served as my mascot in the last two Jeeps but was damaged beyond repair on removal from my last Jeep.
Communications:
Cobra 25 LTD Classic w/ Wilson Trucker 2000 tuneable Antenna
Goal:
To build a Family hauling road tripper that can take us Camping, to the beach, and snowboarding, while still being able to serve weekend warrior duty on some of the tougher trails within the Northeast. As time progresses, so will the build, with the eventual goal of being able to run 37" tires and run some of my favorite trails in NY/MA/VT that I ran with my old TJ's, as well as possibly road tripping to other areas (Rausch Creek/ AOAA, in PA, and out west).
No name or project name or code name or whatever. I have taken to calling it Big Orange Jee (because duh) and "Stomper-3": because I loved the Stompers trucks as a little kid, and it's my 3rd Jeep.
Pics and write ups to come. For now, if you've got any questions, feel free to ask.
EDIT: Updated with my story. If you're interested, read on. If you just want Jeep pics and write ups, keep scrolling.
Read the original threads
HERE
and
HERE
.
LONG POST, INBOUND:

tl;dr: Jeeps and stats are in my signature. Been at it since 2003.

What started my love affair with big dumb chonky 4x4's? Being a little boy in the late 80's. I loved Tonkas and I loved Legos as a kid. There were 2 4x4's that were like life sized Stompers that used to hang out in my neighborhood: A blue and silver CJ-7 and a Brown and tan Ford Bronco. Both lifted with Swampers, tube bumpers and KC smiley lights. Total 80's retro style. I grew up on ATV's. When I was 19 I transitioned to Jeeps. I had a 1992 Ford Explorer I got from my grandparents in 2002. I knew absolutely nothing about vehicles, I barely knew how to drive. By late 2003 it needed work- More than I could get for it on trade. So I started vehicle shopping. It was down to a Blue Chevy S10 Blazer and a Red Jeep Wrangler. I went with the Jeep and the rest, as they say, is history. From my post in the

Confessions of a Mall Crawler Thread

(which I suggest you read because it's excellent):

I also have to say, I get it, albeit from a bit of a different angle. I got my first Wrangler in 2003 when I was 19. a few years later, i starting building. And going on trail rides with a local Jeep group. And building. and breaking. And building. and building some more. Getting more seat time on the trail. Choosing better lines. Following guys with way more built rigs to places that I had no buisness being, with a little TJ on 33's. Doing some Intro to off roading stuff with my Jeep club. I loved all of it.

I worked office jobs. Wrenching was a hobby for me. I ended up buying another vehicle (2, actually) to drive daily. But I would always come back to driving my Jeep. Friday? I should drive the Jeep to work. Snowing? Take the Jeep. Nice day? Take the Jeep. I don't want to get out of bed because I hate this job and it's going to be hell today? I could drive the Jeep- that might make it a little better. I'd peel out of my cubicle containment hell for the day, throw my backpack in my Jeep, pull the top down, and hammer out of the parking lot. Sometimes co-workers and neighbors would ask questions. Some assumed I had money and paid for all the work (I didn't). I'm sure some thought worse of me because I was in the driveway clanking and cursing every 10 minutes for at least 4 hours while trying to fix/ install something. Or I show up to work on Monday and the Jeep is still dirty from the trail I had just been on Sunday. I'd get looks. Some were envious. Some were curious. Some were scoffing. But I didn't care. Those people didn't get it.

Now, approaching middle age, with a wife and a son, and a totally different career in a technical field (fixing machines), I find myself here again- starting over, but this time with a strange new brightly colored Jeep (with 4 doors? what is this?). It may be a Rubicon, but won't see as much trail time as my TJ's did; Not due to lack of wanting, but lack of time thanks to career and family obligations that come first. I've spent money on parts to make it trail ready and I still haven't been on the trail. My wife argued I didn't need this one. I wouldn't be able to go out as often. I'm going to "ruin this Jeep like the last 2"- the last two were old Jeeps, and I was young and... not as wise. I drove them that way for a reason: because I liked pushing the envelope. This is easily the nicest vehicle I have ever owned. Still, I guess She doesn't get it, either. EDIT: She does... just isn't as enthusiastic about it because of my ham fisted driving of the last 2.

But your story, the reasons you got a Jeep? Those are the reasons I pulled the trigger on this one, knowing that Even if I can't spend as much time on the rocks in the mountains as I really want to, I'll at least be able to drop the top, and drive home at the end of a long shift. I'll be able to explore a little more. And maybe I'll be able to get back out there more often... with my son. Even though he's only 2, he loves dad's Jeep. He shouts and points out all the Jeeps whenever we are driving. He knows what a winch is and the sound it makes. He "Helped" me install mine last Thursday. He gets it too, I think. And that's reason enough for me.

Sorry for the long post.

and the cycle starts again, anew.
Last edited: