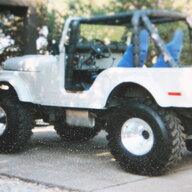 First Name

Brad
Joined

Oct 8, 2018
Messages
Reaction score

4,016
Location
Vehicle(s)

2019 Jeep JL Sport S, 03 Toyota 4Runner, Infiniti G37, Toyota T100 (Retired 74 CJ-5, 80 CJ-7)
Got great info on these links
https://www.jlwranglerforums.com/fo...uspension-on-my-jl-sport-s.19356/#post-470484
https://www.jlwranglerforums.com/fo...evel-kit-on-jl-sport.13250/page-3#post-432923
https://www.jlwranglerforums.com/forum/threads/rubicon-springs-on-sahara.10715/page-2#post-308407
And all torque values for suspension fasteners here~
https://www.jlwranglerforums.com/fo...for-jeep-jl-wrangler.17791/page-2#post-518105
First off, big shout out to
@MD1
for the parts, best transaction ever! The parts were off a 4dr w/ Hard top & tow pkg which results in about a 1.5-2" lift.`
All you need are 2 jackstands, low profile jack, but an extra jackstand and floor jack makes it easier. 18mm wrench & socket, 10mm wrench, 8mm wrench and an impact gun will save some time too.
If you don't plan to add steel bumper & winch there's no need for any leveling spacers in front, but if you do plan on that then a .75" front spacer will keep your Jeep level w/ that added weight, so be sure to plan ahead as you don't really want to have a do-over.
There is a downside because you will lower your caster as you raise your Jeep, this will result in tires more prone to wander off center, I hate low caster so I WILL be adding Mopar LCAs from the 2" Mopar lift (part# 68322798AA) to regain the stock caster as my steering was spot-on prior to the lift.
I took a very basic caster baseline measurement w/ a cheap angle/level, it's not for an exact reading but a general range as that's all I need. I put the magnet against the lower flat edge to the inside of the drivers side lower ball joint.
The before which is in the 6 degree range
And the after which drops about 2 degrees (I know it's hard to tell, but there IS a difference lol)
Swap took about 4 hours, would probably only take 2 if you've done it before but took some trial & error for jackstand placement & spring removal. Did the rear first, jacked up from the rear differential to get tires about 4" off the ground. If you use the E-brake so you can get rear lug nuts loose be SURE to release it after removing tires since the brake lines are pretty tight when axle is lowered.
Place jackstands on the frame rails, this took a bit of effort to find a placement I wasn't leery of. I try to use the rubber stand pads when possible but the frame on the drivers side is just wide enough to fit between the stand prongs. On the passenger side the gas tank is tight against the frame so I had to place the stand along the rail, and use the pad as shown to get a level seat for the stand, a bit ghetto I know, but worked fine.
Lower axle a bit to ease tension on shocks and links. If your set came w/ end links just store them away for when you get many miles on them and can put fresh ones in.
The Rubicon and Sport use the same end links front & rear as well as the same lower control arms.
Remove only the lower bolt on each side end link (18mm for ALL suspension bolts in this project).
Remove the plastic inner fender covers w/ 8mm socket (3 screws), these are located at the top shock mount and need to be removed to get to that bolt.
Remove upper shock bolt, if you have an impact that will save time & effort, this one from Harbor Freight is a beast, will remove crank pulley bolts without a problem
If you do use an impact there you have to get a long extension and run it in that space between bumper & fender.
Remove lower shock bolt
You can then lower axle to remove the springs, I did passenger first (these are the slightly taller springs front & rear, and also have a larger spring part#).
BE SURE TO INSTALL THE TALLER OF THE TWO SPRINGS ON THE PASSENGER SIDE!
BE SURE TO KEEP AN EYE ON THE E-BRAKE LINES, they are well padded but could get too tight if you go too low w/ the axle drop. I went just low enough to get the springs out but not to the point of stretching the lines, but it's a close call there, you may want to remove the brake line retainers if you are worried about that.
Just lower the axle enough so you can get the spring out, nothing more. BE SURE to get that rubber tab in the top mount pad back into that hole in the top, it's hard to keep the pad set when trying to install spring and get it jacked snug so you may want to try some double sided tape (like that heavy duty 3m auto tape) to keep pad in place while you're doing this, but I just juggled through it lol.
Once you get spring in place if you have another jackstand or spare jack (even that spare Jeep scissor jack could work here) you can put light pressure on the axle under the new spring to keep it snug.
Lower axle again and remove drivers rear spring, it's harder to get out since the exhaust is there, I have the Dynomax muffler delete so it may be even harder if you have the muffler intact but ???
This was the hardest spring for me to get back in since those brake lines were a concern, but with a breaker bar I just pried the spring over the lower pad mount once it was in to get it finally seated.
Raise axle to line up w/ lower end link bolt holes, install & torque them to spec.
Install upper shock bolt but don't fully torque yet, then I used my extra floor jack to compress the bottom of the shock so it was simple to insert into the lower shock mount, you can then use a long screwdriver to pry the shock a few mm into that mount hole. Then torque upper then lower shock bolts to spec. My Rubicon set didn't come w/ bumpstops but if yours did, compare the new ones w/ your old ones, if the new ones are longer (not sure if they are???) be sure to install if they are
Install tires (and if you're old like me these $8 Harbor Freight dollys kick ass), just wheel the tire over to the Jeep, lower/raise the jack to align the holes and press wheel on, no lifting! At 100lbs per that's a big back saver
Be sure to torque lug nuts to 130ft.lbs!
Now for the front, many have had issues using the small jackstands, I WAS able to do this using the standard 3ton Harbor Freight sets. Keep in mind when using these you will be lowering the axle almost to the ground so having a low profile jack is best when going this route. I raised Jeep w/ the tires about 5" off the ground, I raised it at the front differential so you get more lift on the drivers side, in order to get the passenger side high enough I used the other floor jack under the front lower control arm mount (at the axle tube) to get the lift even. You could also use some wood under your single jack to get more lift
but this is at your own risk
!
Once you get the wheels removed (you should loosen them a bit first on the ground if you don't have an impact gun) you then place your jackstands on the frame, I used the rubber stand pads and placed them where the crossmember attaches to the frame, I just feel better when there's something else for the jackstand to bite to.
The bracket on the frame that secures the brake lines needs to be removed on both sides (10mm), pull the bracket out so lines are free.
Lower the axle to relieve end link tension, remove only the lower bolt on both end links, you might have to adjust the jack(s) to get the bolt out without binding.
Remove lower shock bolts.
If you are using an impact for upper shock bolt, you can use a long extension, seat your socket on the bolt head and raise the fender liner up, it's a bit of a stretch, but the time you save is worth it. If you go w/ just a ratchet or breaker bar you pull that fender liner out as far as you can to get the ratchet behind it, remove both shocks.
The only other line that gets pretty tight is on the passenger side, it's a taped group of wires that runs from the inner fender area to the axle, mine didn't get tight to the point of concern but just keep an eye there and remove the retainer if it gets worrisome for you.
I did the passenger side first, had to lower axle so the brake rotor was about an inch off the ground to get spring swapped. The upper rubber mount stays in place much better here than in back, but again, there's rubber spikes that need to be inserted in the mount holes so be sure they're in place. if yours came w/ the bumpstops be sure to change them out prior to spring install if they are longer.
BE SURE TO INSTALL THE TALLER OF THE TWO SPRINGS ON THE PASSENGER SIDE!
On the lower rubber mount BE SURE the end of the spring is against that rubber edge/lip. I cheated and used a spring compressor, but you should have no problem prying it in like I did w/ that rear drivers spring. I didn't use a spring compressor on the drivers side FWIW.
Do the same spring swap for the drivers side, lift up enough to align end link holes, torque end link bolts to spec.
Install upper shock bolts snug but not torqued yet, install lower shock bolts, torque to spec, then torque upper shock bolts to spec.
Install brake line brackets back to frame
Install wheels and snug down, final torque when back on ground.
Raise Jeep enough to remove jackstands, lower Jeep to ground, final wheel torque to 130ft lbs, and enjoy!
Before & after pics (pics not on the same day in case you notice some differences), Tires are 295/70/17 about 33.5" tall, front stock rake doesn't seem to be there now, very level front to back. Jeep drives just about like before except for the lower caster, steering will be back to stock after those LCAs are installed next week, will post a follow up on that. Cheers, and if you made it though this novel, congrats
Last edited: