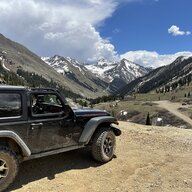 First Name

Frank
Joined

Jun 24, 2021
Messages
Reaction score

418
Location
Vehicle(s)

2021 JLR
Occupation

Real Estate Agent
Humm....clean oil should not conduct enough electricity to short a circuit. Oil with lots of soluble metal shavings from the gear will conduct a lot more electricity, and is more likely to short it.

That is the thinking. I have no idea if it is valid in practice or not. But in theory it makes some sense, and some owners have reported intermittent problem going away with a fluid change.
This is your assumption, you are welcome to it. There will always be iron filings in your diff oil. The magnets in both my drain plugs were covered in fines and the rear diff fluid was already a darker color, much darker than the front with less than 2000 miles. I do not think a fluid change fixed the sensor shorting in any case, that is really a leap of faith right there.
As for addressing the issue, the only way to do that is source a replacement sensor. And I have tried. I asked for a quote via Alibaba, but no dice.
There is a good thread with the potting procedure linked above. Several attempts have been made to source the sensors. It is not possible at this time, even in bulk.
I do not believe that potting addresses the issue. Let's say the actual locker or diff fails. You take to dealer for warranty service. They open the diff and find holes and potting compound on the locker sensor. Deny the claim. I don't find that an acceptable risk.
Interesting. The potting process is a common proven process to protect electronic circuits. I find it amazing that you think oil free of metal will solve this but not the potting? That is a huge stretch for me, to each his own I guess.
(edited for more appropriate response)
The idea that they would deny a damaged diff or axle over a potted sensor is another huge stretch for me. If anything a functioning sensor could help prevent damage. If the sensor is working and the locker or axle shaft or differential fails, I personally would fight that denial and I am confident they would cover the failure. Big assumption they would ever even notice the sensor potted IMO. There is no way the sensor being potted could ever be responsible for a mechanical failure.
I questioned this similarly to you, my posts are in the thread.
Thus the poll. I need more info on how likely the problem is to surface, before replacement sensors are available as the fix. What are the relative risks of the sensor failing vs losing the warranty due to potting? I don't know. Hoping the poll will help shed some light.
I think the failure at low mileage is total luck of the draw. I think eventually most will fail and if it does out of warranty you either pony up for an axle or buy the bypass harness. The solution is simple and safe but I understand how people over react to perceived risk, the world just went through that as a whole...
Good Luck with your decision.
Last edited: