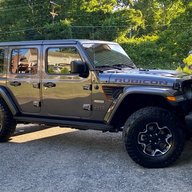 First Name

Chris
Joined

Mar 11, 2020
Messages
Reaction score

1
Location
Vehicle(s)

2020 Wrangler Rubicon Recon
New Wrangler owner here and my first post although I have been stalking the forums for almost a year now and have loved the wealth of information you all have.
I got my Recon in mid-June and am loving it so far. I was showing someone it the other day and they asked why some of my stitching was white and the rest of red. Turns out the dashboard panel around my instrument panel has white stitching and the rest of my vehicle has red stitching. This is obviously a screw-up at the factory(someone mentioned they must have installed a Sahara panel by accident?). I am surprised I didn't notice it before and of course now that's all I see when I get in to drive. Before I go back to the dealership to see what they could do to fix this, I was hoping to get some insight on the options potentially available so I can weigh them in my mind before I talk to them.
- Is that panel even easily replaceable? Do I need to be concerned that taking my vehicle apart to replace that panel would potentially cause other issues?
- Since I already took possession of the vehicle and its been over a month, is this something that should be covered under warranty, etc., i.e. do they have to address it or I am relying on them wanting to please their customer?
- Is this something that they would want to offer me some sort of compensation instead of fixing it like I read in other posts?
Thanks,
Chris