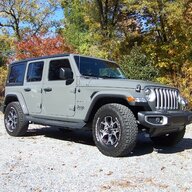 First Name

Jim
Joined

Aug 2, 2018
Messages
Reaction score

567
Location
Vehicle(s)

2019 Sting-Gray Sahara
Vehicle Showcase
We left NC for Fargo, ND on the 08/10, and went west to Miles City, MT from there. Dropped south to Rapid City, SD then back to Sioux City. From there we went south to Miami, OK for a little westward ride on Route 66 to visit some friends that own the Blue Swallow Motel in Tucumcari, NM, then returned to NC on I-40.
The Sahara 3.6L preformed flawlessly, and returned impressive mpgs. The high mark for the mpg's was 25.6, and the low was 21.3. The JL was surprisingly comfortable the entire trip.
There was one little glitch, and one aggravating annoyance. The glitch was the HVAC failed to start one day, but turning it off for a minute then starting it back up fixed that. Never did that again. The annoyance is the active cruise. Overall the ACC was fine when cruising on long little traveled interstates, but when you got into traffic (I-40 for ex) the thing became stupid. When passing it wanted to return to the selected speed to quickly causing the engine to rev very high to get us there, and if someone cut to close in front of you the dang thing would throw the anchor out to open the chosen distance between the us, and the car that cut in front. If someone was close behind you it could get dicey. I just shut the damn then off, and used the standard cruise in heavier traffic.
We got home yesterday, 08/30. It was a great trip. And if you're thinking of taking your Jeep on a road trip, just do it. You'll have a ball. Anyways, here's a few pics.
The total mileage.
100_4934 by

We found some mud in the New Mexico outback.


100_4931 by

The back roads of Texas.


100_4925 by

The old Ozark Trail in Oklahoma.


100_4873 by

A little bit of Route 66 in Oklahoma.


100_4864 by
Last edited by a moderator: