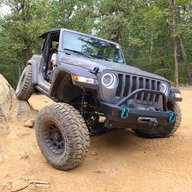 First Name

Jakob
Joined

Jul 24, 2019
Messages
Reaction score

623
Location
Vehicle(s)

2020 Rubicon 2-Door MT V6
Build Thread
I figure I would go ahead and make a build journal for my Jeep.
In July of 2019 I started with a 2019 Sport S, 2 door manual, sting grey. We named her Mareep the Jeep and had a custom tag that said "YEEPYEEP". She served me well for a year and I earned 5 badges trails through out the south east.
I put on 33' ridge grapplers, cavfab bumper, smittybuilt x20 winch, and a rubicon transfer case. Man the transfer case made such a difference in my confidence and my ability in this Jeep. Eventually, while looking for Rubicon take off axles I realized I should probably just trade in for a Rubicon.
Enter this year, right around the same time in July, I traded in for almost the exact same Jeep, but a Rubicon. I actually had ripped the fender off my sport 2 days before trading it in and traded it in with only 3 fenders. At this point, I am now the proud owner of a 2020 Rubicon, 2 door manual, in (you guessed it) sting grey. My girlfriend and I decided on Rhydon the Rubicon (if you didn't know we like Pokemon) because it fits a bit better with the grey color - also because I ride-on all the trails
.
I moved over all my parts and I sold the rubi transfer case from the sport to another forum member. My girlfriend bought me some Quake headlights and those went on too. I immediately started removing all the red from the Rubi. As you can tell from my hard shackles, I like teal. So I bought a pixel decal that is black and teal (still not here yet), removed the red rubicon trail rated badge, and plasti dipped the "JEEP" logo.
And with only 2000 miles on her I went out to Ouray and Moab and did 10 badge trails these past two weeks. As soon as I got home the upgrades went straight on.
Last edited: