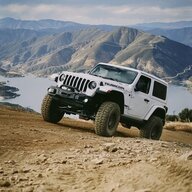 First Name

Jesse
Joined

Aug 23, 2019
Messages
Reaction score

931
Location
Vehicle(s)

2019 Bright White 2dr JL Rubicon 3.6
My biggest gripe with my 2dr JLR is the storage area being taken up by the factory sub. I love the performance of the stock system but really, really want to gain that storage area for tools and stuff I don't want visible with the top/doors off.
I see that Alpine makes a kit for non-premium audio equipped JLUs that includes the PWE-S8 subwoofer to be mounted under the seat, and it seems to be sold separately also:
https://www.amazon.com/Alpine-Electronics-PWE-S8-Restyle-Subwoofer/dp/B00OYGGMXK
What would be involved in getting signal to the sub if I went ahead and bought the above unit? Since it's not a plug and play situation I'm questioning whether it's possible without major DIY creativity? I haven't messed much with car audio in the past, but I'm very tech savvy so I could figure it out if the stuff I need is generally off the shelf.
The other issue would be getting the underseat bracket - the one in the JLU kit I imagine is not going to fit the 2 door? I wonder if I could DIY a bracket using more primitive methods since it will be hidden.