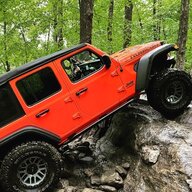 First Name

Scott
Joined

Jun 12, 2018
Threads
Messages
Reaction score

1,300
Location
Vehicle(s)

2019 JLUR in Punk'n Orange
Build Thread
Occupation

Turn Wrenches/ Write code
Has anyone wired a remote battery terminal to the rear cargo area of the JLU using the Aux switches as a power switch? What is their load capacity?
here's my idea:
I want to take a
remote battery post kit
and install it in the rear of my JLU so I can hook up and run my compressor from the rear cargo area post- ride. This way I won't have to worry about opening my hood, and the compressor will be safe, clean, and stable (if it's raining, cold, kids need something, etc). As mentioned, I have kids so I don't want the posts always powered to avoid any accidents. One of the Mopar Aux switches would act as the power switch to power up the terminals, then I could hook up the compressor and start that. I plan on building a 4 way tire inflation system so I can essentially hook everything up and then watch the gauge on the dash, do a post ride check, tend to my kids, or just sit on my ass and BS while everyone else is airing up/ loading trailers instead of running from wheel to wheel and trying to hold My compressor stable on the fender etc.
I know a compressor should be fused (has one inline) and I believe is considered a high draw item, so I want to make sure the Aux switches can handle it, otherwise I would probably need a differenT in-line kill switch.
I don't know a ton about electrical, and this is probably my first DIY Fab project where I'm not just replacing or upgrading something existing or doing something easy, so explain like I'm 5.
thanks!