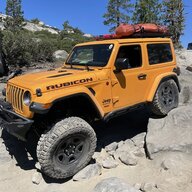 First Name

Russell
Joined

Jul 11, 2020
Messages
Reaction score

232
Location
Vehicle(s)

2021 JLR
My dealership thinks I'm being too picky with the steering fix because I keep bringing my 2018 JLU Sport back to them after performing the steering TSB to, of all things, fix the steering. Today makes the 7th steering related visit since July when I bought the Jeep used with 8,500 road miles on it.
Like many of you, the steering on my JL was simply a poorly designed and dangerous solution to a problem that hadn't existed before. It makes for white knuckle driving at any speed.
Originally, I took the Jeep to my dealer in July just after I bought it and they said they'd look at it. They couldn't repeat the condition (which they never can) and said it was normal. Well, 2" of slop isn't normal. My 1954 Chevy pickup didn't even have that much slop back in 1974. I took the Jeep back in.
In August, they tightened things up and that effort made no difference. They said it did, but it didn't.
In September, I brought a printed copy of TSB 08-074-20 to them to which they said, "huh... hadn't seen that one."
They eventually got a TSB kit from FCA and called me in to have it installed. I was excited to finally get this ugly cyst resolved, though was disappointed to lose the aluminum weight savings on the front axle. Having real steering was the goal and they installed it all in just 2 days.
I was thrilled to pick it up, but then dumfounded when the steering wheel was not level, it pulled to one side, and the slop was reduced by only 1/2" leaving 1.5" of vagueness remaining. A brand new iron box, lines, bolts, and whatever else, and it still steering like a Radio Flyer wagon.
When I brought it back, they apologized for the steering wheel being out of alignment. The slop itself wasn't acknowledged as still being present.
After owning 31 vehicles (seven 4x4s with solid front drive axles), 3 semi tractors, and building sports cars for racing, I'm a snob when it comes to handling. So, when the service advisor tells me nothing is wrong and it is actually terrible, my frustration level soared to 10,000'. This is all after they've had my Jeep so many times for the same issue:
a totally failed steering design!
In complaining to you all in this forum,
@JeepCares wrote to me
to see what they could do to help. After two more trips to the dealership and risking being hauled off for trespassing, FCA assigned a case number and stepped up to help. They sent some parts (unannounced and unexplained) to the dealership. They even called to make an appointment. I went in this morning to have the solution installed. I was very excited to finally have this disaster behind me.
My frustrated service advisor gave me a "what are you doing here" look and I told him FCA had sent in some parts to finally fix the problem. He marched off to the parts department and checked the new part number with the original TSB part number - same part number. No extension or superseded appendix nomenclature, just the same part number of the TSB iron box. He asked me kindly to go away and he'd look into why FCA sent them the same problem box.
So, what's your story?