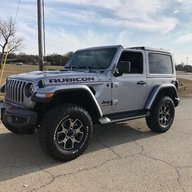 First Name

Roberto
Joined

Dec 16, 2018
Messages
Reaction score

7
Location
Vehicle(s)

2019 Jeep Wrangler Rubicon JL 2dr
We're not "off-roaders" or "Sturgis" types... and our beautiful new 2019 Rubicon JL 2dr will never see the trails, or mud, or rocks, or anything like that. We bought it for "boulevard cruising" and traveling in a cool vehicle with the top down. We had to have the Rubicon "look," which you can't get in any other stock Wrangler - unfortunately - because we ended up paying for a lot of stuff we don't need and will never use (the off-road capability).

And... after driving it for 6 months... I guess... If we had to do it all over again... we'd probably opt to get a Sport and modify it to look like the Rubicon - which would save a lot of money, and we'd likely be happier with what we got.

It's too bad... FCA... can't offer such an option. Or, maybe they do... and... we just didn't realize it.

What would we change?

1st - we'd get a much more fuel efficient rear axle (3.2 or 3.5 gear ratio). You can't afford to change the 4.11 ratio to a more fuel efficient option, because you'd never recover the cost in fuel savings. And... it probably needs a 10spd trans, rather than just an 8sp.

2nd - we'd like an upgraded / modified front steering set up to eliminate the steering wander and overly sensitive steering, which is actually dangerous on the expressways with heavy traffic. Oh yes... we've done all the things the factory recommends (and owners) to "fix" this problem, but it still wanders a bit, and is way too sensitive to input. And... we don't wan't to start installing a bunch of "after-market," custom parts to try and improve it further, if it can be - which most of the custom shops suggest is not likely. If you've never owned a Wrangler, and are considering one... be aware... it's not going to steer like any other vehicle you've driven - it's not designed to.

3rd - we'd make all the cosmetic options of the Rubicon available on the Sport (e.g. the lift, the tires & wheels, the body colored fenders, the body colored hard top, and all of the other options the Rubicon has that the Sport doesn't.

4th - we'd make the dual top option available from the time the new model is available, or grant early buyers a credit to apply to the puchase of the soft top, when available later. We were able to get only one or the other, not both - we got the body colored hard-top - and, it will cost us more to add the soft top now that it's available.

We could go on... but... you get the point.

As I said - if we had to do it over - we'd likely just get the Sport and have it customized to look like the Rubicon. And... in the process... who knows... we might even have avoided the steering wander of the stock Rubicon. So... if you haven't ordered your's yet... you may want to reconsider.