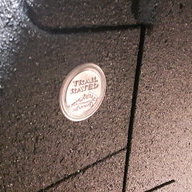 First Name

John
Joined

Apr 5, 2020
Messages
Reaction score

710
Location
Website
Vehicle(s)

2020 Jeep Wrangler Rubicon 2-door
my theory - and it's just a theory and based on the fact that i have driven standards for some 45 years (and never lost a clutch - even racing) AND after 18 months with this particular jeep I still feel like it's my first time driving a standard:
The engine is quirky at low revs. Has a weird torque thing happening that feels something like the early days of turbochargers. This is fine in an automatic vehicle, as it gives that head-snapping feeling when you give it a bunch of gas off the stop line. Makes it "feel" like the car has a ton of power, and follows up rather disappointingly (but, hey- it's a jeep). Anyhow - in a standard, combined with a new, 'touchy' clutch it's a beast to roll away from a stop light elegantly. I am thinking, that Jeep has discovered that perhaps there have been failures from too much feathering by those who don't understand that you can overheat a clutch. If you do it wrong, you can find yourself feathering the clutch all the way through 3rd gear... not a good way to drive a standard.
And perhaps is that the reason said "software" is so delayed, is that "software" probably won't fix the problem (unless it is to sort out that engine torquey feeling).
Anyhow - just a theory. After 18 months with this vehicle, I am starting to get comfy with the clutch/engine matchup. Then I jump in my '04 TJ, or my son's '17 JK and drive it around a bit and i am back to square one for a few weeks.
The PR behind all this is a bit strange - I get the recall notice that says we don't have the parts, do a bit of research and find out that parts = software fix as well as 'exploding bits' and can imagine how people feel uneasy driving a deathtrap
. All the same, I don't care - just wanna drive my jeep. (and maybe get the dealer to fix the stereo USB thing - WAY more annoying than a recall notice).