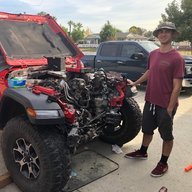 First Name

Royce
Joined

Dec 21, 2019
Messages
Reaction score

105
Location
Vehicle(s)

2018 Jeep Rubicon JL
Vehicle Showcase
Meet 'Ruby"
Well here we go....A real quick background first. Picked this 2018 JLU in firecracker red up from COPART auction site back in November last year. It's a father and son rebuild project with quite a story, read on...
Yes somebody stole the rear brake lamp, I'm guessing while it was waiting to be sold at COPART. $500 to replace, ask me how I know.
Yes Ruby had a weak pulse at the auction site but alas not when we met.

Bought her sight unseen with the exception of some auction photos provided on the copart website. Ruby was a texan native and recently I was able to contact the original owner and found out Ruby was hit while stopped at an intersection. The offending vehicle was a pickup travelling at 75mph from left to right according to the other driver (not sure why he would admit he was speeding through an intersection but anyway...).
The impact hit the front metal stock bumper pushing the frame ends 70 degrees in the direction of travel and bending the entire frame section under the motor by a few degrees. The steering wheel airbag deployed and hit the driver in the arm. The steering wheel airbag has a raised jeep logo on it and it imprinted itself on the drivers arm which looks like it will be a permanent scar that says "Jeep". The driver shared the picture with me and it's quite an incredible permanent reminder to have from a collision. I won't share the photo as I don't have permission to do so.
After winning the auction I shipped the jeep at a cost of $1200 from Texas to California. The jeep arrived on a multicar semi-trailer rig and therein started the problems...getting it off the trailer....The jeep was on the top row of the trailer at the very back and arrived DOA. The battery was dead and the frame end and front bumper was bent straight onto the right side wheel making it impossible to turn the wheels to roll it off squarely. The driver said the jeep was forklifted onto the trailer. I had no idea I was meant to forklift it off when it arrived. The driver waited while I removed the skid plate and cut off the bumper and parts of the frame end just so the wheels could rotate with some slight left and right movement. The driver then lowered the ramp hoping I would roll off but the transmission was in park and with no battery and a keyless ignition I had no idea how to release the transmission into neutral so it would roll. A quick call to Jeep while the jeep and I are suspended 10 feet off the ground and I found out there is a mechanical release in front of the shifter, you remove the small square trim panel and you see an orange ribbon, I pulled it straight up with my foot on the brake and we finally started rolling off the trailer onto the street. This all took about an hour during which time it was raining. I was very fortunate the driver was so patient and didn't just drive off.
This is the jeep with the partial bumperectomy.
I was very fortunate to be able to track down the original owner as he was able to tell me everything about the car's history, maintenance and upgrades. Oil was changed every 5000 miles and wheels rotated every 3000
Upgrades Installed By Original Owner:
2.5 inch Rock Krawler XFactor Flex Lift
Rock Krawler TT Shocks
No Limits Front Sway Bar Links
37" Milestar Patagonias
1.75" Spidertrax Wheel Spacers
Teraflex Alpha Tire Carrier
Artec Fad and Rear Control Arm Skids
Motobilt Diff Covers
A Little Bit About Us

My son and I will be rebuilding Ruby. We have never owned a jeep before but we had talked about it forever before pulling the trigger on this. We are 'adequate' when it comes to mechanical aptitude and also pretty good at researching what we don't know which is pretty much everything when it comes to jeeps. I had always wanted to rebuild a car from the frame up so this is a wild dream of mine coming true. My sons car hormones are in full swing and he had been itching to do an engine rebuild on something/anything so even though this is not an engine rebuild (hopefully) it certainly will keep him satisfied for a while I'm sure.
Damage Assessment To Date (By Me):
Air Bag
Front grille
Radiator, transmission cooler and ac cooler
All plastics for the front air intake
Plastic battery compartment tray
Frame
Right front fender support, the left may be able to be straightened out
Right metal fender
Hood & Hood Catch Brackets
Windscreen
Steering pump
Brake vacuum pump
Tie rod (Suspected bent but not confirmed)
Front control arms (suspected bent but not confirmed)
Both headlights
The body seems to be straight, the door gaps are all pretty even.
A few of my friends gave me some good advice and said many jeep owners upgrade their jeeps so you might as well do it now while your fixing it to save you some money in the long haul. Well I'm not going crazy because I think the existing upgrades will cover the basics. I did, however, order the following:
Current Orders:
I ordered all of the OEM Mopar stuff listed above that I confirmed is broken or bent (Mopar is shockingly overpriced except for their frames)
Mopar Frame was $1476 delivered - Had to be delivered to a business address, they would not deliver to my house.
Mopar Side fender support rail $385
Mopar rear brake lamp $561 delivered
Mopar hood $548 delivered
Mopar brake vacuum pump $88
Mopar Air cleaner body, cover, filter, ambient air duct, air cleaner hose $242
Mopar radiator cooling fan $205
Mopar Cooling Module (Radiator, ac, trans) $331
Mopar Radiator Closure Panel $533 delivered
Mopar Power Steering Pump $532
Mopar Battery Tray $183 delivered
Mopar Air Bag $485 delivered
Mopar grille $219 delivered
Mopar right metal fender $267 delivered
Mopar LED headlights $940
Mopar Hood $548 delivered
Synergy adjustable control arms front and rear $1545
Synergy Drag Link $300
Synergy Tie Rod $400
Fox 2.0 Performance Series Steering Dampener $290
Synergy Front Track Bar Brace & Sector Shaft Brace $200
Mopar All Weather Floor Liner $160
There will be more
Future Orders (Hopefully):
Poison Spyder Bruiser front Bumper $820
Poison Spyder Bruiser Front Skid Plate $320
Warn Zeon 10S Winch $1400
Probably change the tires to AT instead of the current MT. The idea is traction on the road as my son will probably be driving her the most.
Next Step: Replace the Frame:

Remove the body from the jeep and replace the frame is the next step. We have actually already done this. I'll explain how we lifted the body and all the connections that need to come apart in the next post....Will have some video's as well.
Post # 2
Sorry It's taken a little longer than expected to follow up. We've ,made a lot of progress and I'm very keen to share the successes and frustrations.
Frame Replacement
Replacing the entire frame was a big decision as we also had the much less labor-some option of just replacing the front frame ends which you can buy new for $400 each side and we needed both. Without knowing if there was any other frame damage and some helpful hints from a retired body repair guy who advised it was much safer and cleaner to replace the entire frame we decided to go for the full replacement.
The new frame was $1500 fully delivered but with a catch, first of all I would have to wait for a month and second, because it was a drop shipment they would not deliver to a residential address. We have a friend of my sons who has a car restoration shop and very graciously helped us out. We had the frame delivered to his business. He also had a forklift so we rented a trailer and had him drop it on and off we went.
Regarding trailer rental, if you use one of the nations largest rental companies they do not allow loading their trailers with a forklift. My son told them our plans while picking up the trailer and they abruptly declined the rental. Just FYI.
Body Lift - Step 1 - Build the Gantry
So now we have the trailer at home it's time to work out how the heck are we going to lift this body off the frame. I researched youtube and saw multiple options, some riskier than others. There was the engine hoist with a board through the front windows but that would not provide enough height, there were metal gantry fabricated at home or the option we chose which was the wooden shop gantry. We chose this option because it was the cheapest and I knew we would not keep it after we were done. Here's the link to the exact gantry design that we used:
And here we are putting ours together. BTW first video editing for us mainly by my 9 year old...:
In hindsight, if I did it all over again I would not use wood. Under the weight of the body the left hand leg of the gantry starting splaying outwards. We did our best and I'm sure if you're a natural at woodwork you could make it bulletproof. We chocked the moving leg and it seemed to hold ok. I have a welder and I think I could have put some scrap together and made a stronger design. Harbor freight also sells a metal gantry for $700ish. Assuming the top of the gantry could extend to 10'6 inches it would work and you could sell it afterwards for whatever. I probably spend a little over $300 on the wooden gantry. The metal fasteners were surprisingly a big part of the cost. I purchased this hoist/chain block off amazon for $67, it worked like a charm and was effortless. Lube the chain when you're done as it likes to rust:
Body Lift - Step 2- Disconnect All The Goody Bits:
This video of us disconnecting all the bits that connect the body to the frame and motor are explained in a little bit of detail. I decided not to cronicle every single connection as it's pretty obvious what needs to come apart. I will explain some lessons learned:
Body Bolts - Big PITA! - There are 10 of them but only 8 are absolutely horrible to remove. The bolts are tightened like there was no tomorrow. They are also full of permanent loctite. I read online that they they break...and they do. Here's my tips to removing them:
Don't use a breaker bar. -they will break, ask me how I know.
Use a regular 1/2inch ratchet bar. Undo a half or quarter turn then go back in the opposite direction. This spreads out the loctite that wants to bind up in your threads. You will feel like you have been to the gym after just one bolt because they are long and there's a good spreading of loctite on them.
Feel free to use a impact gun - you will lose and end up just bending your bolts or just chugging on the spot not moving anything. My impact gun (big milwaukee gun used for changing tires) was no match for the body bolts.
Use your sons, they need to the muscle gains anyway and it teaches them about two steps forward and one step backwards.
Heat is your friend, if you can get those bolts hot enough without catching your steed on fire then the loctite will melt making removal much, much easier.
Reread # 1
I ended up breaking one bolt only and fortunately there was a couple of threads sticking out of the body so I welded a nut onto it and was able to remove it. I strongly suspect I was only successful because the welding got the bolt very hot and I immediately cranked on it and felt the loctite had melted making the force to turn a lot less. It would cool fairly quickly and wrenching became very difficult again. I ended up breaking three nuts off before it finally spun out of the body. BTW, that couple of minutes after the bolt is removed is like one of the most glorious and satisfying moments in your life
Fuel Connectors Clips - Brittle and They Break - The fuel connectors at the fuel tank took a bit of working out. I broke three very brittle connectors before I wised up. To remove the connector you need to remove the protective cover then press down on the white plastic release clamp while pulling the hose out of the connector. I tried pulling the release clamp out and snapped three of them. Jeep does not sell the connectors, they will only sell you the complete fuel line. The nice parts guy at my jeep dealership had a spare clip in a box of everything under his desk and gave me one. I then found them for sale at O'reillys for $4 in two different sizes that I needed.
Electrical Connectors - The electrical connectors on the JL jeep have a two step process to pulling the connectors apart. First you need to slide the colored clip to its full ectension and then you press down on the black tab while pulling the connectors apart. I also broke a couple of these as the colored clips on the very small connectors are very easy brittle and break easily.
Categorize your bolts by the part you are removing and put them in labelled bags.
Leave the bolts in the frame where you can that way you can come back weeks later and still easily work pout what bolt goes where.
Don't throw out your old parts until you install the new parts because you will find you need them to work out where things connect by either grease, dust or other stains. I scavenged quite a few fasteners off the old parts that were not provided with the new parts. Old parts also have parts numbers which helps with ordering.
If you can afford it, buy the tools you need to do the job instead of doing things hard and slow. A couple of impact guns and a ratchet made life a lot simpler for me. Don't be afraid of buying from Harbor Freight for the tools you will probably not use again for a long time or never again. Trim tools - if you want to preserve your trim and wiring connectors for reuse without destroying them during removal I would strongly recommend this trim tool:
https://www.amazon.com/gp/product/B072LWS2H6/ref=ppx_yo_dt_b_search_asin_image?ie=UTF8&psc=1
Order your replacement parts well ahead of time. Mopar and Amazon speed of purchasing have absolutely nothing, nothing, nothing in common. You will wait weeks for mopar parts delivery.
Where to buy parts? I couldn't say any one particular online place was better than the other. I ended up buying from about 8-10 different retailers online and at the Jeep dealership (which I kept to an absolute minimum due to costs). Jeep dealerships do have parts diagrams in more detail that you will not find online. Ebay ended up being my goto place if I needed something within a week but generally most of the sellers are dealerships and they add a premium onto the price.
Anyway, here's the video of us pulling the body off Ruby:
Transferring Motor, Transmission and Other Stuff from Old Frame to New Frame
Watch this space, coming soon
Last edited: