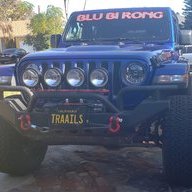 First Name

Vic
Joined

Apr 3, 2018
Messages
Reaction score

1,795
Location
Vehicle(s)

2018 Rubicon JL
I have been asked for a few more details on my rear cargo deck. Took me awhile to put a write up together but here goes.
First of all, I wanted a level back cargo deck as low as possible while leaving seats in. Nothing like this exists so I designed and made my own.
A quick narrative how this started. I wanted a flat surface in the back area that was useful while leaving the back seats in place and having a some lockable storage with top off. I will be running no top 90% of the year. The pictures will show a flip up lid over the stock flip up jeep cargo box. My lid opens up and the other opens thru it. In the closed position while everything is flat, the pictures will show a flange on the bottom back edge of my lid piece. The tailgate simply closes over that and won't allow the hatch to open. A simple secure area with the top off. I also wanted to keep the rear seats. Seemed like it was easy enough to design something that worked with the seats in place. I can have seats up and functioning in 2 minutes flat while the rear area behind the back seats remains as my secure locked deck. Just a smaller area. The goal was to be able to put dogs, camping stuff, a load of groceries or chairs for the beach in a kind of pick up bed so I am not forever tying everything down onto the top of a Tuffy deck.
Hopefully this link to an album of pictures from pretty much start to finish will be fairly easy to follow after reading this description. Seemed impossibly difficult to do pictures along with descriptions as I went! I can build a frikkin building or a house from the ground up or even design and create stuff like this project with ease. Getting me to learn the ins and outs of this damn computer is an entirely different animal. I am a complete retard. So here is the link to the album of pictures that may help make sense of how this was built.....
https://photos.app.goo.gl/D9si4x2ZskYPjV6r7
.
Enjoy,
Vic