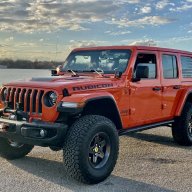 First Name

Jim
Joined

Aug 11, 2019
Messages
Reaction score

866
Location
Vehicle(s)

2020 JLUr
I don't remember the exact numbers. I think he told me 50 was the threshold that they de-bead and re-seat the tire. All were under 30 and I think half were actually something like 15. The shop seemed really experienced and didn't think the tires were the cause. One or 2 wheels did need an extra once of weight and they put the best balanced ones on the front. I honestly couldn't say I noticed a difference though. Tire shop was more concerned with the 12.5 tire on the factory wheel. I needed up getting new wheels but regretted it after because I preferred my stock ones and it wasn't a factor.
My highest was 38 and they basically said anything over 20 would cause issues. The three that were 20+ they replaced. Two other shops in the area I talked to actually stopped selling the KO2's, or at least try to avoid selling them at all cost because if balancing issues. I'm currently trying to find a set of stock tires to see if it still does it with them. I actually replaced the ball joints a few days ago and it's definitely better but still there depending on if I hit the right bump.
One shop I went to had a guy with a Dodge PIckup with the same issue, he finally got BFG to replace all the tires and he went with a different brand and hasn't been back since.