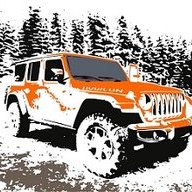 First Name

Ken
Joined

Nov 25, 2017
Messages
Reaction score

540
Location
Vehicle(s)

Punk'n JLUR
Posted this question in General JL but it didn't get far so I thought I'd post my query here.
It's pretty much winter up here in the Canadian Rockies and I had to use the windshield defrost for the first time this past week.
When I use the windshield defrost, I get warm air coming out of the green area but no airflow at all from the red area. (Of course this picture omits the passenger side of the dashboard but it's the same thing on that side.)
So the end result is that the center portion of the windshield becomes free of snow and ice but the edges remain frozen. What's up with that?
Is it just mine? Can someone hit the windshield defrost on their center dash (top left corner) and tell me if they get any airflow from the vents towards the ends?
Last edited by a moderator: