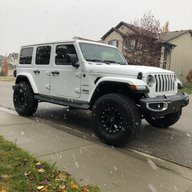 First Name

Kevin
Joined

Aug 7, 2020
Messages
Reaction score

39
Location
Vehicle(s)

2020 Wrangler Sahara Unlimited 2.0L
I just reprogrammed my ECU for my new 35" tires and wanted to also adjust the tire pressure for the TPMS.

When I pulled up the light load setting from the ECU it was set to 0 for both front and rear, with the max load set to 36 front and rear.

My tires were sitting at 34-37 from the tire shop - no warning lights came on for the last 4 days since I brought it home.

I would have assumed that "light load" was the lower pressure to trigger the TPMS warning, and max was for an upper limit but that doesn't appear to be the case?

I've now changed the max load to 25 and aired down to 28 in the rear and 30 in the front (I have Falken AT3's in the E load rating to starting here before I do a chalk test). No warnings during a drive around the block.

Does it seem normal for the light load to be 0 from the factory? Anyone else experienced this as well? Should I up the light load to say 20 to see what happens?

Thanks in advance!