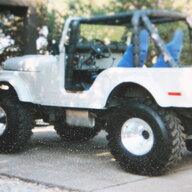 First Name

Brad
Joined

Oct 8, 2018
Messages
Reaction score

4,016
Location
Vehicle(s)

2019 Jeep JL Sport S, 03 Toyota 4Runner, Infiniti G37, Toyota T100 (Retired 74 CJ-5, 80 CJ-7)
Just installed my Quadratec QRC Stubby Bumper
https://www.quadratec.com/p/quadrat...wrangler-jl-gladiator-jt/stubby-without-winch
Bumper arrived a couple days earlier than expected, very well packaged and in flawless condition
Bumper is very well built and no lightweight @ 110 lbs. , the bumper is made from 6 gauge plate and the winch support plate is over 7mm thick! Good weld quality/integrity and the powdercoat finish is perfect.
The only tough aspect of the install was installing the fog lights, it was hard to keep the nut & washer together as you try to thread the bolt through the mounting hole. It was tight to get in there, I ended up keeping the nut/washer together w/ some blue painters tape and then holding that tape under the mount to thread the bolt through, was pretty easy after that trick
Mounting the bumper to the Jeep frame was simple enough but need to keep the bumper loose until you get the 4 outer bolts threaded into the bumper as there's little room to get all those bolts threaded without any binding or cross threading. Luckily I backed one bolt out before crossing the threads but would be pretty easy to do if you're not careful.
Mounting the winch to the bumper was straightforward although you might want to mount the winch first as there's some tight areas to work with once the bumper is already installed.
I installed the winch after the bumper was installed and took a bit longer since the winch wiring is really tight behind the winch and trying to get to the back winch bolts is pretty tight w/ that angled lower winch support. There are two large cutouts on the underside of the winch plate so you can get your hands in there to install the winch bolts, just a bit tight.
The winch plate has a 4" drop so your winch is low profile for best air flow to the grill.
All the bumper holes to the frame, winch plate, fairlead mount, and fog lights were all spot-on, and no need to do any adjustments to the fog light harnesses. There is a thick rubber sleeve included that goes over the stock fog light wire harness to keep it protected even better than stock
.
The included light bar mounts are well placed w/ 13" & 22" bolt spacing and are hidden when looking at the bumper straight on. Gives you multiple options for light bars & pod lights.
This bumper will work with the 3 bolt Sport fog lights, and the 4 bolt Rubicon/Sahara fog light w/ plastic bumper (will NOT work w/ the fog lights from a Rubicon w/ Steel bumper).
All said, I'd give this an A+ from packaging all the way to the installed finish, and for the nice price point you get a huge "bang for the buck"!
Last edited: