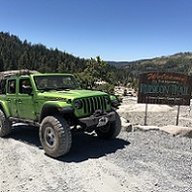 Joined

Jul 30, 2018
Threads
Messages
Reaction score

955
Location
Vehicle(s)

Mojito JLUR
Vehicle Showcase
Just finished up on doing the Hydro assist with the new PS pump / Reservoir / Steering Box.
I have factory axles with CavFab tie rod which are 1.75". At the same time i installed a Rusty's Track Bar Brace. Instead of having brackets welded onto the stock axles i went with Next venture motorsports Hydraulic assist brackets. Also at the same time i installed the Gladiator grille inserts since i had a PS cooler in front of the radiator now.
New Gladiator Grille inserts. I also painted the shiny PS cooler brackets black to make it a little less noticeable.
Since my winch was tight against the grille i opted to remove everything from bumper/grille/fenders/liners to make accessing everything easier
0
I spent hours cycling steering and suspension to make sure nothing binded with each other. As you can see, the next venture motorsports bracket attaches to the sway bar and tie rod bolt on the passenger side
Rusty's track bar brace can be seen here
Lessons learned / Issues
1. Doing it solo was a real pain. The PSC Steering box was extremely heavy and a helping hand will help you with lifting the box in place
2. Since i installed a track bar brace at the same time the bolts that were supplied with PSC were too short. The factory gearbox has through holes for the steering brace. The PSC one were not through holes and i needed to buy 1 12x1.5x100 bolt and 1 12x1.5x110 bolt while reusing the 100mm bolt provided by psc. This set me back by a few days since i couldnt install the box.
3. Next venture motorsports supplied the bolt for the bracket but they included the wrong bolt for the track bar. I e-mailed them a few times but they never responded. I don't know if i will go through them again with their lack of response. I ended up buying a 14x1.5x90 Grade 10.9 bolt since i didnt have time to wait for the 2 weeks of no response from them. (Update - Next Venture had shipped the bolt but it was already 1/16 when i received it and it was no longer necessary.)
4. PSC shipped the wrong tie rod clamp but that was quickly resolved with the help of Northride 4x4. Since i had 1.75 tie rods, the clamp they sent out was 1.5
5. PSC has markings for the hydro assist hoses with D and P with arrows pointing to each port. I installed it as per the instructions however for my application, the Driver port was used on the passender side and vice versa.
6.Bleeding was not too bad although i am still in the process of bleeding and topping off the reservoir. Removing the driver side line of the PS cooler and filling it up helped the bleeding process.
Driving impressions
Steering feels more direct with no dead zone in the steering. I am no longer sawing the steering wheel while trying to drive straight.
Steering effort has decreased greatly. This is something that i need to get used to and most likely attributed to the hydraulic ram. There steering wheel feels like there is no resistance. This could be a pro or con depending on what you are used to. It feels more like a 90's 1 ton diesel now even more.
Highway crosswinds are no longer a major issue compared to before. Although i still get pushed a bit, no longer am i moving the steering wheel as much to compensate and overall highway stability has greatly improved. I live in a very windy area with tons of windmills and high wind advisory. No longer am i hopping lanes with a death grip on the steering wheel.
Last edited: