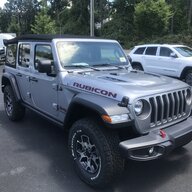 First Name

Chris
Joined

May 17, 2021
Messages
Reaction score

12
Location
Vehicle(s)

2021 Wrangler Rubicon
I'm on my 3rd Wrangler (2021 JLUR) and I totally believe in the Jeep wave ... if I see a Wrangler, I'm waving. Hell, sometimes I forget myself and I'll wave when I'm driving my wife's Mazda
I'm wondering what are people's thoughts on the method of the wave... does the hand have to be on the steering wheel and you lift 2 fingers for the peace sign or a 4-finger wave? Of course, if you have the doors off you can drop it down to the side, that's acceptable.
Sometimes, I'll have my arm sitting on the open window (doors ON) and I'll give the peace sign over the mirror ... is that a proper Jeep wave? Sometimes I feel silly when, I see a Wrangler approaching and I'll shift my hand position to get a hand at the top of the steering wheel just so I can make a normal wave.
Mostly, I'm just curious if the wave has to come from a hand on the steering wheel. Do you consider it a proper wave if someone say, waves out of the window?
Silly topic I know ... but to me the Jeep wave is a state of mind that Wrangler owners understand and some of us think it's pretty important.