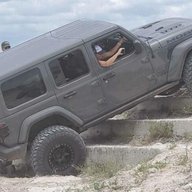 First Name

Danielle
Joined

Dec 28, 2018
Threads
Messages
Reaction score

11
Location
Vehicle(s)

JL Moab 2019
Occupation

Hotel Manager
I want to permanently mount my CB radio inside my center console.
How do I power the radio?
I have a 2019 JLUM with aux switches. I have a Uniden 520 cb radio that has 1 black and 1 red wire coming from the back of the radio. The only power source inside the center console is a USB port.
I have three powering options and I'm seeking some feedback so I can have a clean install---(no showing wires).
Solder a cigarette lighter plug onto the red and black wires of the CB radio and have that nasty cord run from the console to the dash (yuk)
Hard wire the radio to one of the aux switches and snake the wire under the carpet up to the passenger footwell--uses a precious aux switch
Power the radio with the USB port that's inside the center console (either solder a usb cable to the radio or get a usb-to-cigarette adapter)
I'm hoping I can do #3.
Will I burn up my USB port? Will I burn up the CB radio?
I already do it the #1 way and it drives my OCD butt crazy that there's a wire running from the console to the cigarette lighter. #hidethewires
View attachment 191791
(edited to show pic of adaptor)
Last edited: