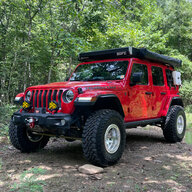 First Name

Josh
Joined

Jul 24, 2021
Messages
Reaction score

3,259
Location
Vehicle(s)

2021 JLUR XR
Build Thread
Occupation

Sparky
Vehicle Showcase
Alright boys and girls, since I have so much time on my hands waiting for my JLUR XR, I scrubbed recent postings in this thread and made a spreadsheet showing options ordered and build progress. Hope it may shed some light on what's holding things up.

https://1drv.ms/x/s!AiWr6LBdXPAXgbMgtqAvFoNSKOsjSQ?e=59hPND

Please DM me if you'd like to add, update, or delete your information. The best way to contribute is to send me a screenshot of your POC's options section, and let me know if your build has progressed further. Note this spreadsheet is for 3.6 or 392 XR only.

So far it appears that the four people who ordered 3.6L XR (me,

@galleywinter

,

@jessebkr87

,

@Badfish

) and are

stuck in D only have Safety Group in common; *And* Safety Group was the only common option not ordered by those who have progressed to D1

. Please note this is based on very limited data, so take my conjecture with a huge grain of salt.

@Membrain

Does your 392 tracking include XR and detailed options? If so, could you point me to that spreadsheet? Would be happy to merge either way if feasible.
Bravo sir! Thanks for putting in the work on this. It'll be interesting to watch as things roll out further.
Also, it made me realize I forgot to include steel bumper group on my post here although I ordered it.