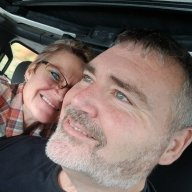 First Name

Ted
Joined

Aug 3, 2018
Messages
Reaction score

12,682
Location
Vehicle(s)

JL Unlimited Rubicon
Occupation

Retired from Corrections....I have stories.
So another thread got me thinking about how reliable Jeeps are. I don't think any other vehicle gets treated like a Jeep Wrangler gets treated and if they do, they do not hold up as well, are not as dependable nor do they hold their value like the Jeep wrangler. After all I have never heard the owner of a newer Honda Civic say, hand me a grinder, and a can of flat black spray paint. The Honda is never driven down a trail that is 50 miles of rocks and mud and then drove across country.
So post up some pics of things that you have done with your Jeep Wrangler that the normal vehicles that are considered dependable and long lasting would not stand up to.
Mudding
The interior flooded from being stuck. This would probably total most vehicles that we consider as the best for dependability. Yet a Jeep, you pull the plug and keep wheeling for the weekend.
The frame and suspension being flexed to its max thousands of times.
Thousands of water crossing.
many miles of this
Then still pull a camper home like this.
Getting ready to roll 55,000 miles. Just the oversize tires would eat the life out out all the vehicles that are raved as being well built and reliable before they did 10% of the things that a wrangler is subject to over its life.
So show off your Jeep getting it done where other vehicles just don't.