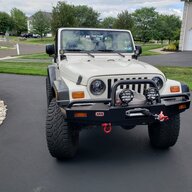 First Name

Jose
Joined

Jan 25, 2022
Threads
Messages
Reaction score

47
Location
Vehicle(s)

1999 Jeep TJ, 2012 Acura MDX, 2017 BMW i3
I joined this forum to help me understand the factory options available to put together a build sheet. During all my research I found multiple threads that look at options by asking if "
option X is worth the $
". I too rapidly fell into that rabbit hole and created my own Excel sheet listing the options and their cost, which was then followed by hours agonizing over the choices' cost while striking a balance on the monthly payment.
Yesterday I had an epiphany when I got my first $60 bill from my new internet provider (a month ago we cut the cord and removed a $250 monthly bill). The bill's arrival made me realize that I do not miss cable TV and that I am perfectly OK with my internet connection for my TVs using Netflix , Amazon Prime, my YouTube subscriptions, and my HD Homerun device to stream the signal from my HD antenna.
The event made me realize that what I thought was WORTH having all these yeats (e.g., $190s a month worth of TV services and associated receivers) had actually little VALUE to me and the ENJOYMENT I got out of it. So I went about changing my Excel sheet to look only at the VALUE of each option and to ignore the COST. To ensure an even application of VALUE I defined it as the ENJOYMENT I stand to get from the factory option.
After redoing the Excel sheet I am very surprised by the results. Now, I have been all set with the Rubicon and that did not change one bit as for me it's either a Rubicon or nothing, but the options on the other hand changed substantially.
Deleted leather package
Added colored fenders
Deleted XR package
Picked the 3.6L etorque over the 2.0T
Deleted black Freedom top
Added premium top
Deleted the Safety Group
Kept the Cold weather group as it is for the wife and it STAYS!!! (as if it were a choice anyway). If this was only for me it would be deleted.
The LED, ACC, and Tow Group were already deleted. Looking at them for VALUE did not change the results.
Kept the half doors as they made the cut with flying colors
Kept the Rock Trac full time 4WD
So, if you find yourself struggling with choices trying to figure out if they are WORTH adding, I recommend changing the evaluation process to focus only on the VALUE they represents for the ENJOYMENT the option and the Jeep will provide for you. It ceratinly made a big difference for me. I hope this can be of help to those folks that are struggling with making choices.