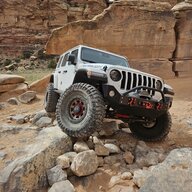 First Name

Chris
Joined

Aug 24, 2021
Messages
Reaction score

289
Location
Vehicle(s)

2021 JLUR, 2021 Sahara 4xe (wife's)
I have a 3.6L 6spd Rubicon on order and am having the dealer put on 35s. I'm wondering how much of a performance impact I will notice.

I currently have a lifted 2012 6spd JKU Sahara with 35s. When I first got it a few years ago it still had the original 3.21 gears. It got around ok but was a bit of dog, think Basset Hound as opposed to Greyhound, when it came to performance. 6th gear was useless; I very quickly learned to not go higher than 5th. I took it out west and I had to drop it all the way down to 3rd to keep up with semis going up the mountain passes.

A couple years ago I had the 3.21s replaced with 4.56s; the difference was night and day. I instantly had a useable 6th gear. This past May I went out to Reno and Yosemite. On most interstate mountain passes I could hold 70mph in 6th gear.

Obviously 4.10 is much lower than 3.21, but the JL 6spd is also geared a little higher than the JK was. In the back of my mind I'm a little worried about what performance will be like with my Rubicon in 6th gear. Is 6th gear still fully useable on a stock 4.10 Rubicon running 35 inch tires?