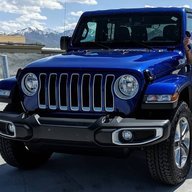 First Name

Benny
Joined

Apr 1, 2019
Messages
Reaction score

1
Location
Vehicle(s)

Ocean Blue 2019 Sahara
Occupation

Finance
Today, we just took home our very first Jeep - a 2019 Sahara. Sticker attached, but was listed at $49,245 and we took it at a 13.9% discount off MSRP
or 9.2% discount off Invoice
for $42,400 (incl. destination charge).
After reading this forum for a few months now, I have not seen a better deal in the western US (we are based in Salt Lake City, Utah), so I hope our experience can help you in your Jeep buying adventure.
It is worth noting that we came in with ZERO experience. My long-time GF and I are 23 and 24 years old, respectively and this was our first car purchase EVER! We came into this process very intimidated by the infamous car-buying horrors stories, but ultimately excited for the challenge and satisfied with how it turned out. There are certainly some mistakes that were made along the way, but at the end of the day, we took home a great Jeep and we have some great lessons for our next Jeep purchase.
We can go on for hours and discuss each aspect of our process in great depth, but hopefully the key takeaways help tell the story:
When selecting our Jeep model and trim, we ended up choosing the Wrangler Unlimited Sahara. We often host a lot of our friends and family on trips, so a 4-dr was a must. We chose the Sahara because it offered some of the creature comforts we wanted in a new car while still being relatively low cost compared to the Rubicon and Moab. At the end of the day, the cost was the most important reason why we went with the Sahara.


After selecting the Trim, we listed out every option we cannot live without based on our lifestyle. We knew we wanted the safety and the additional features to address cold weather/poor road conditions – our must haves ended up being the (i) Cold Weather Group, (ii) Jeep Active Safety Group, (iii) Selec-Trac Full Time 4WD drive system, (iv) Anti-spin Rear Diff and (v) Automatic Transmission. We then separated out our nice-to-haves. Again, price was always at the forefront of our mind, if we got a good enough price we would start incorporating our wants into our build.


One of the biggest costs to consider is your monthly interest payment. Check all your local credit unions for the best rates and get the offer in writing – one resource you can leverage is http://ncuso.org/. NCUSO is a national credit union regulator and the site has a list of credit unions by City & State. Market standard rate is 4%-5%, but we were able to find a rate for 2.59% at a small credit union that we were eligible for just because we lived within the county. We got this rate despite this being our first car (just need a credit score of 720+). If you decide you want to stick with Chrysler Capital, just know that you can negotiate the rate down – its in the contract that the rate is negotiable (I learned this too late).


SPECIAL ORDERING is the biggest reason why we got the price we did. It took about 3 weeks to get my offer from 2% to 9.2% off invoice by pinning the dealerships against eachother. I cannot stress this enough, your biggest asset is patience, the dealership will do whatever they can to get you out the door with a car today, but keep searching and don't get swindled in. The moment I got a good price, I called the last dealership and told them the price and said they needed to beat it. The truth of the matter is that there is nothing special about the dealership, they can all offer you the same thing – free services, accessories, discounts, etc. A special order of your Jeep will give you the best price because its literally free money for the dealer, you are doing all the work in selecting the Jeep and picking out the options, all they have to do is put in the order with the price you want and then they can take their commission check. I spoke with the salesperson for a total of 30 minutes on the phone to lock in this deal over 5 calls.
Worth adding that I didn't step into a dealership at all during these three weeks, everything was done over the phone. My search included mostly out-of-state dealers at first until I got above 8%, at which point I reverted back to local dealers... I was prepared to travel out of state, but really didn't want to.


Taxes are the sneakiest cost that are not talked about enough. We were very selective in how we addressed the dealerships, because we wanted to end up with a dealer in a location with a low tax rate. Luckily for us, we were able to lock in our 9.2% off invoice 45 min away from our house and save 1.25% on the tax rate.
Now after all that work is when we started making some mistakes in closing the deal...
[05/24 Update: Our mistakes were corrected by refinancing through a credit union as soon as we got our loan number]
When we arrived, the dealer made it clear that they weren't going to match the deal unless we agree to the dealer financing. I almost walked away, but after nearly 4 months of searching, we were exhausted and just wanted to close the deal. In hindsight, we should have spent more time discussing this because we ended up stuck with a 7.93% rate. The dealer said we were allowed to refinance after 3 payments, but I plan on discussing with my credit union this week once I receive all the final paperwork to find a workaround.


We had put down $1,000 down to put the order in, thinking that we would be allowed to put the rest of our down payment ($16k) on a credit card that we can pay off within the month. I have a lot of assets in a Fidelity Trading Account, so I wasn't able to pull the money out without instantly. In hindsight, this should have been a question I asked the dealer ahead of time, but instead I walked in the day they said the car was ready (5 weeks later) w/out the cash available. I ended up only putting $4k down due to the limits on charging credit cards.
Again, I plan on discussing with my credit union what they recommend some of my options are. We will have the $16k in assets sold and converted to cash in 3 more days to put down to reduce the principal amount.
If I had to do it all over again, I would have read through the documents more carefully and pushed for a better, more competitive rate and made sure I had the cash readily available in case they didn't allow me to put the money on my credit card. I will probably post an update when we figure out how to get out of the insane interest rate they gave us.
If anybody is interested in what dealership we went through to get the 9.2% off, shoot me a DM and I'll let you know. As a caveat, they weren't the nicest folks and I am not sure I would recommend them again. Doesn't help that I felt screwed on the rate.
Overall, we love the Jeep and cannot wait for the adventures to come!

++++++++++++++++++++++++++++++++++++ UPDATE 05/24 ++++++++++++++++++++++++++++++++++++
​
Our contract did not include any prepayment penalties, so we were able to refinance through our local credit union as soon as we got the loan number. Chrysler Capital tried to make it difficult for us to pay a down payment over $2,000 (as noted above the dealer didn't let us put a big down payment down), but our credit union just accepted the check and then calculated the interest off the remaining principal.
At the end of the day, we ended up paying $208 more due to the interest payment they charged on my first payment, but that still nets a total savings of ~9% off invoice. Our credit union locked us down for a 2.59% rate that will end up saving us ~$7,000 in interest payments.
If anybody is looking for a FANTASTIC credit union in SLC for their car loan, I highly recommend
P&S credit union
. They offered the service we felt we didn't get at the dealership.
*Note I am in no way affiliated with the CU, just had a great experience is all.
Last edited: