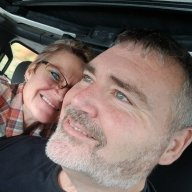 First Name

Ted
Joined

Aug 3, 2018
Messages
Reaction score

13,269
Location
Vehicle(s)

JL Unlimited Rubicon
Occupation

Retired from Corrections....I have stories.
So I found a post on JLWranger for some 40s for sale in Virginia. I casually mention it to my wife that I found some take off 40s on wheels that I though I could get a good deal on, but we would have to drive to Virginia. Her eyes lit up and she screamed, "ROAD TRIP",and asked when we leaving? It was about two hours later, and we left. She is my Jeep co-enabler. She wants 1 tons, and a Hemi and bugs me all the time about it.
Made a deal for them and went and picked them up. Smooth transaction. Left Michigan on Wednesday with plans of being in Virginia on Thursday night and picking up the 40s on Friday. In doing this, I had to have slip away as I did not want my Jeeping buds to be like WTF you doing because if I took the Jeep, they would be pissed that I went across the country thinking I was Jeeping with out inviting them. So I borrowed the in-laws mini van to go get the 40s. Good thing I pulled some measurement first. They almost did not fit.
We giggled about sneaking off to pick up 40s for the whole trip because we knew what our Jeep friends would say. So as we got calls asking hey what's up, we downplayed it as just getting out of the house and doing a "non-jeep road trip". We posted up some pictures of The Flight 93 Memorial. Just a note about the Flight 93 Memorial. This has been on our bucket list of places to visit. Visiting during this time also gave us a time to reflect, gain some clarity, and remember that there are people that gave up everything to protect others. It was moving and we are glad we visited. We will go back when it is not so cold so that we can hike the area.
I also need to sit for a while when it is not freezing and listen to the chimes at the Tower of Voices.
We had time so we drove Sky Line Drive. We had to throw our Jeep peeps off our trail and enjoy some views. This was my wife's first time here. I have motorcycled it a few times over the years and knew she would enjoy it.
We pick up the 40s about noon on Friday and head home. It is a full ten hour drive and we both get several calls asking if we are going to be home in time to go wheeling on Saturday. Also cancel going to our monthly Jeeping Euchre card night where we raise money for a local charity as we will not be back in time.
We get home about 1030 at night and the floor jack and impact gun goes to work. By 1100 pm the JLUR is on 40s and none are the wiser. My neighbor comes home during the process and helps me swap the tires. Big thanks to him. 40s on, go for a quick test drive and flex the JLUR. It scrubs the tires lightly just in the back. Should be fine for the light wheeling that we are leaving for in 6 hours.....
I meet with my normal crew and they notice that something is different, and I play it off..... Remember, I just added the snorkel???? Duh. We drive up to northern Michigan and park at the meet up area and there is more time with my Jeep parked next to their Jeeps and it get noticed that my Jeep is a little bigger than theirs as we all pretty much run the same set up. Then they notice the wheels are different and one of them looks at the tires. LOL. we got teased all day on the radio. Had a great time wheeling and scrubbing the inner fenders.
My main buds were like are you really going to run 40s? I had to explain to them that this is mall crawling. I plan to run the 40s around town and not on the trail. I do not want to dump all the money into the Jeep to be able to wheel 40s. But hey around town and then keep the miles off my 37s that I do wheel with....... That is the plan. Pulling a camper and wheeling with 40s is just not in my plan for a reliable JLUR with out putting 50 more grand into the JLUR. Therefore Operation Mall Crawler was born.
There were over 30 Jeeps on the trail ride so more pics and videos are to come.