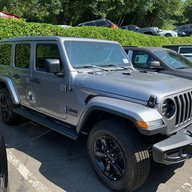 First Name

Christopher
Joined

Jul 30, 2019
Messages
Reaction score

82
Location
Vehicle(s)

Shopping for JL
Today marks one month my 2019 Sahara has spent in the shop for various repairs. First there was the electrical failure where my Jeep went dead driving at 45mph. A dangerous moment, but thankfully I was able to coast to a parking lot. Tow #1 to dealer to fix a factory defect. Next up I discovered my garage floor covered in a pink fluid... tow #2 for a major coolant leak where they disassembled the engine to fix a factory defect. Now my Wrangler has spent over 2 weeks at the dealer having the steering box replaced. They tried to give it back to me last week, but there was significant vibration in the steering and the alignment was way off (even though they claimed it had been aligned). It was frankly dangerous to drive. A week as passed now and I'm told they don't know why the steering is not right. They are asking for factory advice on how to fix. Inspiring.

I'm not sure what to do with it when I get it back? The warranty expires in less than 10K miles and my current track record does not inspire confidence. Other "small stuff" is also starting to break (rear defrost, radio freezes up, center console lid broken).

I venting here for sure, but curious what others would do in my shoes?