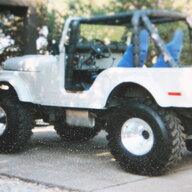 First Name

Brad
Joined

Oct 8, 2018
Messages
Reaction score

4,508
Location
Vehicle(s)

2019 Jeep JL V6 SportS, (Retired 74 CJ-5, 80 CJ-7)
Just spending some couch-potato time looking at oil pan protection (without going to a full skid plate). Saw that Rancho makes them for the JK 3.6 but none for the JL.
https://www.quadratec.com/products/...ZdVXJVc0fiwjF2uJdrviLQd2RXrYnT-4aAo2fEALw_wcB
So got me thinking what difference there is in the actual oil pans between models. Rockauto is a good place to see what is what. Turns out there is one oil pan sold for both models, the ULTRA-POWER 264357.
Then looking further the Mopar pans are different part #s and a noticeably different design (might be why the JKs use 6qts and the JLs 5qts, since the JL pan has a deep ramp to the front of the motor, and the JK is flat).
https://www.rockauto.com/en/catalog/jeep,2017,wrangler,3.6l+v6,3436872,engine,oil+pan,5562
https://www.rockauto.com/en/catalog/jeep,2019,wrangler,3.6l+v6,3443725,engine,oil+pan,5562
So it would appear that Rancho plate would work with either motor, just a bigger gap in the front. Maybe I'll be a guinea pig for this lol.
Or maybe since the Mopar oil pan is only $26, just carry one as a spare