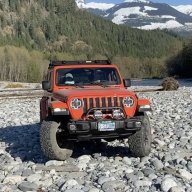 First Name

Jerry
Joined

Dec 29, 2018
Messages
Reaction score

4,441
Location
Vehicle(s)

2018 JLU Sahara 2.0L
Crap, I start getting paranoid when I go over my self imposed oil change interval by a hundred or so miles.
This reminds me, I had a friend, with a Toyota Camry, that had around 250,000 miles on it. I think it was an early 90's model. He never changed the oil, or filter. He just added oil when it burned off. For fun, I took off the filler cap, and looked inside, with a flashlight. It looked like everything was coated with about 1/2 inch of sludge.
The guy worked for Exxon/Mobile, making over 200K a year, but couldnt, and wouldnt spring for an oil change.
200K a year and drives a Camry? Talk about being fun at parties..