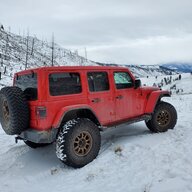 First Name

Roy
Joined

Nov 12, 2019
Messages
Reaction score

701
Location
Vehicle(s)

2020 JLUR 3.0 Diesel (FIRECRACKER RED), 2020 6.7L F350, 2011 QX56, 2005 5.9 Cummins
Got some new tires for my pickup and these BFG's are now up for grabs. We're waiting on a 2020 Rubicon to be built and I'm planning on no lift as this Wrangler needs to fit in a parking garage (6'6" is the number I need to stay under). This set of AT's has very little wear on them and currently measure 36" tall on an 8.5" wide wheel.
Prudence asks that I wait until we get the Jeep and see exactly how tall it is in factory trim before I go buying more stuff, but I may get a wild hair here. I really want to try some Gladiator takeoffs ( I do understand they are basically the same specs) but I have my eye on a few other wheels as well. Aside from the JT wheel I'm looking at some 8.5" or 9" wide wheels in the +6 to +18 range.
I am not dead set on running these tires. It's just that we own them, they're in great shape, and the BFG AT is a damn decent tire and I'd really like to run them on the Jeep. I have a hard time leaving stuff 'stock', and the dinky little 285/70r17's might not make the cut. We'll see when it finally shows up. Who knows maybe I'll fall in love with it in it's factory delivered form and just leave it alone.......
Maybe
If we take this JLUR offroad with these specific tires on it would be fairly mild stuff. Not going to be rock crawling with this setup. Totally willing to remove, trim, or replace fenders and inner fenders. That will happen someday anyway. Zero plans for a lift as stated. I also have zero interest in spacers, from everything I've read a true 37" will fit on a non-lifted Rubicon with factory wheels. They end up completely stuffed and won't wheel without rubbing, but they fit. So I'm thinking these 36" tall BFG's should work fairly well for mostly

Activities
These are currently the front runners fifteen52 Traverse HD