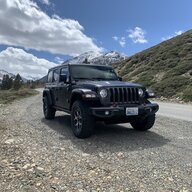 First Name

Mike
Joined

Dec 23, 2019
Messages
Reaction score

62
Location
Vehicle(s)

2021 Jeep Rubicon JLU in Granite Crystal Metallic
Yesterday, I just bought a new 2021 JLU Rubicon with the 2.0L engine, and even though I had it 1 night, so far everything seems to be okay with it, with a but....I inspected the relay/fuse box in the engine compartment when I got home and found more than half of the relays and fuses not completely secure, and needed to be pressed down and locked into place. This was also the case on my 2020 JLU Willy's.

I did not have any issues on the drive home, but decided to do a check on the fuse box anyways, based on forum posts and past experience. I'm wondering if these loose relays and fuses is a huge factor in people having issues and not knowing to check. I'm thinking that inspecting the fuse box and relays should be a checklist item for dealers prior to delivery.

Anyways, hopefully I'm preventing a near term headache by doing this check.