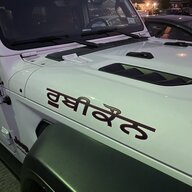 Joined

Nov 17, 2020
Messages
Reaction score

545
Location
Vehicle(s)

2020 Unlimited Rubicon with 8 speed and 3.6L Pentastar without eTorque
This comment assumes most buyers purchase Wranglers for their capabilities. I'd venture to bet that most people actually do NOT purchase them for the capabilities and instead most get them because of its looks. Owning a rugged looking SUV (that's only driven on pavement) is my opinion of what's moving most of the 200k units a year.....And if we're talking about looks, many, perhaps most, think they look better lifted with beefy tires.

My comments are not an excuse for the people that are doing these mods cheaply. I'm merely stating that I believe most make the mods to improve the appearance and not to improve capability.

For those that got a Wrangler to exploit its capabilities, I understand why you're scratching your heads at those destroying their Wranglers with cheap mods. However, it starts to make a little more sense when you realize the majority of them are doing it solely for the appearance and are naïve that doing it cheaply has negative results.
So true! I am one of the people who bought a Rubicon for it's looks more than anything. I never off road the damn thing and therefore am 100% factory stock. Chances are that 90% of Rubicon buyers are like me and those out of this 90% who modify are doing it more for looks than anything else.
Let me know if I said something wrong please.