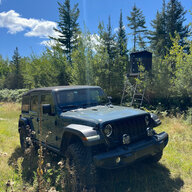 First Name

Chris
Joined

Aug 1, 2018
Messages
Reaction score

878
Location
Vehicle(s)

AP1 S2000, JLU Sport S
I leased a Wrangler Sport S almost three years ago, and have really enjoyed having it. I need to turn it in this August, and have been thinking about what to do next. I think I've ultimately landed on leasing a 4xe. I don't think I need to sell you guys on it, but basically almost all of my driving is around my town (I work from home or commute via train, train is <1 mile from my house) so I will almost never use gas. The times I will are to go to our family vacation cabin, and I look forward to using the 4xe as a silent EV on our hunting property there in support of hunting.
Anyways, just had a few questions. I plan on going to a dealer this weekend that has a few, and then plan on submitting my order assuming the test drive goes well.
Here's my intended build:
Of note, I had Dual Top on my Sport S. My father in law is going to buy my Jeep lease out, and has no interest in the soft top, so I'm just going to keep it and use my "old" soft top on my new 4xe. I assume there are no issues with that?
Otherwise a pretty basic build, it mirrors what I have on my Sport (I have the 7" screen obviously, but rest is the same, Alpine, cold weather, towing, etc) plus the camera and proximity goodies.
I just joined Tread Lightly, so I'm planning to use the discount for the lease, has anyone had any issues with this? And I assume I can use the $7500 tax credit as the downpayment on my lease? I also have $1k of cash discount from my credit union, not sure if I can stack that on there too or not, who knows.
Anyways, appreciate any insight any one has on the lease, what I can expect to pay, and anything else I should consider for my order. Again, hope to place it this weekend assuming all goes well. My last lease payment on my current Jeep lease is July 22 (turn in 8/22), so hoping it comes in soon after that, but who knows. We have 2 other cars so if it is delayed a little not the end of the world.