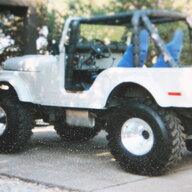 First Name

Brad
Joined

Oct 8, 2018
Messages
Reaction score

4,192
Location
Vehicle(s)

2019 Jeep JL Sport S, 03 Toyota 4Runner, Infiniti G37, Toyota T100 (Retired 74 CJ-5, 80 CJ-7)
There are gauges that can be used to set torque by a certain degree. However, 135 is an easy one.
If the breaker bar or torque wrench is pointing straight down, tighten another 90 degrees (from 6 o'clock to 9 o'clock). Then tighten another 45 degrees, half the distance from 9 to 12 (let's just call it 1030).
Just did this, went 44ft lbs in the cross pattern I listed above, then went (3) 45 degree turns on each bolt. Went back and checked w/ torque wrench and it clicked solid at 90 ft lbs, so they're AT LEAST 90 ft lbs.
FWIW, when I clicked at 44, then used bar to further tighten that's about how tight they were when I picked up the Jeep from the shop, so they must've just stopped at 44 and didn't add the 135 degrees