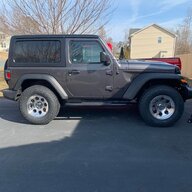 First Name

Tim
Joined

Jan 30, 2022
Threads
Messages
Reaction score

47
Location
Vehicle(s)

2021 Wrangler Sport S, 2017 Lexus ES-350
Occupation

Department of Defense Program Manager
In the spirit of there is no horse that is so dead you cant kick it one more time, here are my thoughts regarding the ongoing 3.6 vs 2.o debate. Went to my local dealer tonight and drove both back to back. Both are 2 door Sport S with exact same option list save for engine. Here are my thoughts in no particular order:

a. 2.0 definitely feels more powerful - not by a tremendous margin, but no doubt about it.

b. Although the 3.6 could accelerate almost as quickly, you had to push the accelerator further to get there.

c. While 2.0 is quicker, the engine sounded like it was working more to do it.

d. 2.0 engine was louder - not by a huge margin, but louder. The 3.6 just purred along.

e. 3.6 puts out better sounds IMO.

f. I drove a 3.6 with manual trans first and felt it didnt have quite the get up and go the 3.6 with 8 speed auto did. Still fun, but almost..........sluggish.

In the end, going to be coming home with 2.0: primarily because that one was Red, and the 3.6 was Gecko.......Red is my favorite color, and really the only "issue" I had with it was the engine noise......until I turned up the radio a bit and couldn't hear it. If they had a red 3.6, I just as may as well come home with it. BLUF: You can't really go wrong with either. YMMV. Let the battle rage on.

PS: Service manager, touted to be one of the best in this region, and a diehard Jeep fan, pushes the 2.0 every chance he gets. Will be meeting with him on Friday to hear his arguments. Also, every dealer in my area is ordering 2.0s almost exclusively. Not sure exactly what that means, maybe they just make more money on them, I dunno.