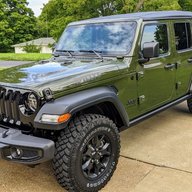 First Name

Alana
Joined

Aug 17, 2020
Messages
Reaction score

9
Location
Vehicle(s)

2020 JLU Willy's Edition
I was ecstatic when I was finally able to drive my brand new 2020 JLU home on July 30th. On August 15th I noticed acceleration issues and took it straight back to the dealership. I'm being told that there is misfire on cylinder one and it needs the engine replaced due to faulty spark plug installation?? It has 600 miles on it. I am beside myself, I've had it for a little over 2 weeks and already a new engine? Do I have this replaced or do I start the process for a new replacement Jeep? Please help... Any advice would be much appreciated. Below is a portion of the email that I received from the service department today.

"Since the vehicle was received so late on Saturday, we were not able to get in and diagnose this issue until Monday morning. Diagnostic vehicle scan report showed a Cylinder 1 misfire code that was active, thus causing the running concern you were experiencing. Our tech removed the spark plug from cylinder #1 and noticed that the ground (metal hook that creates spark when the electrode on the plug fires) was broken off and missing. At this point, since the vehicle was so new, our technician reached out to FCA engineering regarding next step. FCA responded with complete engine replacement as the repair for this concern assuming that the metal ground from the spark plug may have caused damage to the engine internally.
An engine was placed on order 08/17/20 am and shows an updated ETA date this morning of 08/24/2020. Although this date may change slightly, it is a good indicator that the engine is no longer on back order and is being released for distribution.
Per my conversation with Jason this morning, I understand that you may no longer want this vehicle and be interested in switching to another Jeep. If this is your decision, we can reach out to FCA and get that process started. I will get the proper people involved and try to make that happen for you.
Please understand that the proposed repair will be a complete engine assembly and will be installed by a factory trained technician and will be quality checked before releasing to you. A loaner vehicle will be provided until your vehicle is repaired. I will make this process as easy for you as I possibly can. Feel free to reach out to me with questions or concerns."