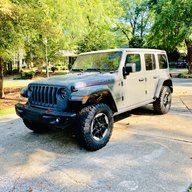 Joined

Oct 5, 2019
Messages
Reaction score

86
Location
Vehicle(s)

2020 Rubicon Unlimited
Hi all,
So I bought a 2020 Rubicon Unlimited 3.6 on Sept 21st. This is my 5th jeep, and they date all the way back to the first CJ5 Renegade I bought new in 1979.
I of course test drove this 2020 Rubicon on about a 4 mile drive and felt the loose steering issue but attributed it to the poor curvy road and the possibility that the tire pressure was too high....
Fast forward to today, Nov 9th.....
I have a total of 285 miles on my Rubicon. It is NOT lifted.
1. I have played with multiple tire pressures, I have the Falken Wildpeak MT 285's. Started with factory 37 PSI cold, now at 33 PSI cold.
2. Have had the entire suspension system checked over visually and had ALL fasteners checked for proper torque.
3. After reading much in these forums, many have said to upgrade to adjustable LCA's, a better steering stabilizer and a better heavy duty track bar.
4. I bought and installed the Fox 2.0 ATS Steering Stabilizer with firmness adjustability.
5. I bought and had installed the Teraflex Alpine IR series front lower control arms.
6. I bought and had installed the Teraflex front track bar.
7. I had a 38 year veteran that has done nothing but truck and off-road alignments and set-ups do an alignment, he also installed my LCA's and track bar...
The alignment specs are now:
Left Caster 6.6º
Right Caster 6.7º
Left Camber 0.3º
Right camber -0.2º
L & R Toe is at 1/16"
According to the Jeep dealer, my 2020 Rubicon has no recalls, no TSB's and has ALL the latest revised software and parts like the "AE" steering box, NOT the AD version.
I have spent $1,835. I have driven a total of 285 miles since buying it on Sept. 21st. I am frustrated, it STILL has a very loose feeling in the steering wheel between the 11 o'clock to 1 o'clock position with constant left/right corrections to keep my Rubicon "between the lines".
Any other ideas guys?
Thanks much
Last edited: