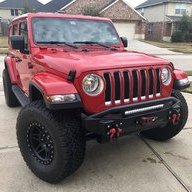 First Name

Will
Joined

May 8, 2018
Messages
Reaction score

2,412
Location
Vehicle(s)

2018 Wrangler JLU Sahara
Occupation

Gas Pipeliner
Vehicle Showcase
IBS Testing
I have conversed with Jerry
@Jebiruph
on this thru a few PM's and then proceeded to let my OCD rule my life and started digging to get some info with some testing of course.
As most are aware the JL like most newer vehicles uses a IBS/IBM ( Intelligent Battery Sensor/Intelligent Battery Management Sensor) that's mounted to the negative terminal on the main crank battery but in my case since I run a dual Genesis system it's mounted to the full size aux battery and this is where there is a possible issue.
I reached out to NOCO, Genesis, Odyssey, Cole Hersee, Full River and BOSCH to help me with the questions on potential issues, some gave info and some could not offer much based on various things as what I have is not what's considered OEM with the Genesis Sys.
Before I explain let's discuss what the IBS/IBM does, here is some info from there site:
https://www.bosch-mobility-solutions.com/en/solutions/sensors/electronic-battery-sensor/
https://www.mymoparparts.com/oem-parts/mopar-battery-sensor-68289207ac
After having some emails back and fourth with them I was amazed on what this little gadget is responsible for as I thought it just monitored the battery voltage but it takes in a huge amount of data to process to come up with calculations to direct the alternator what to do in maintaining the starting voltage our Jeeps need and so much more.
The IBS looks at the following and apparently has some added benefits when working correctly but I'm not sure how huge a benefit they are.
Battery state of charge
Battery state of health
Batteries ability to hold a charge based on its age and temperature
Battery current & voltage flowing thru the batteries
Parasitic draw (yes this is monitored)
Optimize charging for longer battery life
Increased fuel economy by less load on the system using regenerative charging
The above are just a few things but it's a key component is the ESS system a lot of us hate but most of us have ESS disabled by some means such as a Tazer, Smart stop/start module, JSCAN etc.. and some even have the aux battery disabled or have removed it completely by going to a single battery or dual Genesis Sys. so with that said most like me would think that the IBS is not needed but oh was I wrong.
Aside from the IBS monitoring all of these things it stores the revolving battery info inside the module and sends this info to the ECM/ECU so it can direct what charging is needed based on all these conditions and what the guidelines/programming limits are set by Jeep and if your IBS fails or the batteries start to fail this is recognized and you are alerted thru different means but all of this info is displayed thru the EVIC display and also hard codes are stored, trust me I have tested this over the last two weeks.
If you were to unplug the IBS the first thing you will see is a IBS error message and a code is stored that can be cleared once it's corrected but in addition to the IBS error message since no info is being sent to the ECM the JL assumes there is a battery fault and throws 14+ volts and one would think that's ok since vehicles not long ago threw 14+ volts all the time but as this error whether induced by you as the owner or an actual fault the JL will assume the worst and start disabling power grabbing things to ensure a restart is possible during an ESS operation even if ESS is disabled and the first thing is the ESS system is disabled and those that have seen this know and most times replacing the aux fixes this but not always so the next thing to replace is the IBS and possibly the main crank battery ( Batteries don't last forever )
The IBS is actually a pretty inexpensive part and even though Bosch did not recommend it they kind of hinted that it should be replaced when batteries are replaced even though it's a sealed unit that should last thru the vehicles life but we all know how electronics are.
Anyway what started all of my intrigue into this IBS thing was the JL like lots of vehicles uses regenerative charging or smart charging and I won't go into that as that's a whole different topic but to give you the short version the JL's voltage is actually supposed to float or dance on the display and this is how regenerative charging is supposed to work but if you have issues like a bad IBS, failing batteries or possible electrical issues that are pulling voltage down thru parasitic draw or healthy batteries that have not been maintained properly by leaving your JL parked for say weeks at a time without being on a maint charge you will see possible error messages and you are likely to see 14+ volts all the time on the EVIC.
Well after installing my Genesis System all was good and I rarely looked at voltage but as I was going thru my display after doing some JSCAN changes recently I noticed my EVIC voltage was reading 14+ and it normally does if it's been parked a lot but I do weekly charges using different chargers ( NOCO 10 & Odyssey 20) so I just kept an eye on it and it usually has dropped in the past after driving a short period and then would dance as I slowed down or accelerated but this time it was pegged at 14+ so this is where I reached out to Jerry and all the others I mentioned.
BOSCH advised there really is no easy way to test the IBS unless one goes to the dealer but according to BOSCH codes should be stored if the fault persists but they did give me some insight on what to do to reset the IBS physically that is attached here for those interested.
In my case after resetting the IBS and attaching it back I found issues with mild corrosion inside the IBS connector that was easily corrected and I followed BOSCH's recommendation for correcting and then I asked them about my dual battery system and without going into great detail the Genesis Sys as designed does have an impact on how the IBS records data sent to the ECM as the Cole Hersee relay opens and closes based on what SOC the main battery is and this for a lack of better terms confuses the IBS and then couple that with the induced measured resistance across the relay and solenoid this to adds to the confusion as the current flow even though is good it's somewhat restricted enough to affect correct charging patterns stored to be evaluated.
In the end after some additional testing to keep the IBS happy I have found that if I charge each battery separately it keeps things in check and no it's not a hard process as I disconnect nothing I just charge the main first then swap cables to the aux then charge according to what Genesis suggests and once that's done I can leave it for weeks but since the IBS periodically wakes up and checks voltages by charging the way I do it keeps the current flow thru the batteries more consistent but this may not apply to those running a single battery but for those running the smaller ESS aux I would suggest you charge separately and this can be accomplished with a simple ESS negative disconnect put on the cable, also when charging don't put the negative charger clamp directly on the battery post it needs to be put on the cable itself because if it's put directly on the post it bypasses that IBS as Jerry advised and this adds to the charging confusion of the system.
I considered moving my IBS to the main crank battery but according to BOSCH this still does not address the way the batteries connect/disconnect and does not address the way current flows thru them so i decided to leave as is.
After I addressed the IBS issue of connector corrosion along with taping/sealing some frayed wires I checked all connections with a meter for good continuity and applied some dielectric grease and charged and checked resistance and determined my method of charging and at the very end I reset the IBS and so far my voltages have been good and my charging system seems happy as it's working as it should like it was when first installed.
I may choose to go back to what Genesis advised on optimal charging as resetting the IBS is a simple process and if I had not looked at the voltage I would have never found the issue with the IBS which possibly could have been the biggest part of the problem but I also want to get the most from my batteries so I will do what's needed.
Here is some info from BOSCH but Odyssey, NOCO and the others contacted could not or chose not to give much info other than about their specific products, I will say Odyssey and Full River along with BOSCH were the most helpful with things to look for in regard to proper charging.
All the ppl I chatted with all agree on one thing and that was proper battery upkeep by a properly sized charger for the batteries installed, nothing wrong with small battery maintainers as long as they are used after doing a big boy charge because NOCO, Odyssey and Full River all advised if a charger is undersized it's just as damaging as one that oversized, it's not super critical for non AGM batteries but that does not apply here.
I hope to get at least 5 years from my Full River 750's and once they are done I will likely replace with similar and also will replace the IBS module as it's not that much more to add in during a battery swap.
Anyway I'm quite sure I have gone on long enough as some of you are tired of my rambling but battery management is not as simple as it used to be not long ago and one almost has to have a engineering degree to diagnose issues with batteries.
Below is a pic of my setup and it likely is different than most of you but the IBS in question connected to the terminal should be the same
The blue arrow is the IBS data cable and this connector should be cleaned and then a lite coating of dielectric grease applied, the red arrow goes to the actual IBS module and the interior should be checked for dirt and corrosion ( I cleaned mine with contact cleaner ) the yellow arrow is where the negative charger cable should be attached and the green X should never be used as a charger point as it bypasses the IBS
Also included are some voltage checks I did and info from BOSCH
Voltage Checks
*Cole Hersee solenoid C= Closed O=Open*
** First two readings are batteries 1/2**
** Reset IBS after doing full charge of both batteries**
Day #1
12.75/12.75/12.7 EVIC *C( 30 mins after charge)
12.7 EVIC (after 35 min drive)
12.7 EVIC (after parked 12 hrs ** no meter to check batts)
12.71/12.71/12.7 EVIC *C(after 35 min drive)
Day #2
12.63/12.63/13.4 EVIC *C (parked 9 hrs)
13.2/13.4 EVIC (after 35 min drive)
14.0 EVIC (parked 12 hrs **no meter to check batts)
12.83/12.83/13.0 EVIC *C (after 45 min drive)
Day #3
12.59/12.59/14.0 *C (parked 9 hrs)
13.2 EVIC (after 40 min drive)
14.0 EVIC (parked 12 hrs **no meter to check batts)
12.81/12.81/13.1 EVIC *C (after 40 min drive)
Day #4
12.67/12.67/14.0 *O (parked 9 hrs)
13.1 EVIC (after 40 min drive)
14.0 EVIC (parked 12 hrs **no meter to check batts)
12.78/12.78/13.3 *c (after 40 min drive)
Day #5
12.66/12.68/13.8 *O (parked 9 hrs)
13.2 EVIC ( after 40 min drive)
14.0 EVIC (parked 12 hrs **no meter to check batts)
12.80/12.80/13..2 *C (after 45 min drive)
24hr Checks
Day #1
12.78/12.78/12.7 EVIC *C (30 mins after charge)
12.75/12.76/12.8 EVIC (after doing some errands)
12.63/12.63 *C (12 hrs parked)
12.63/12.68/13.9 EVIC *O (24 hrs parked)
Day #2
12.65/12.70/13.9 EVIC *O (24 hrs parked)
12.67/12.71/13.4 EVIC (after doing some errands)
12.64/12.71 *O (12 hrs parked)
Day #3
12.61/12.70/13.8 EVIC *O (24 hrs parked)
12.78/12.79/13.4 EVIC (after doing some errands)
12.60/12.60 *C (12 hrs parked)
Final check (One week of mixed driving and parked and no charge other than at beginning of week)
Day #1
12.70/12.70/12.8 EVIC (60 mins after charge)
12.82/12.83/13.2 (after 45 min drive)
Day #2
12.68/12.70/13.7 EVIC
12.69/12.70/13.2 EVIC (after 45 min drive)
Day #3
12.65/12.68/14.1 (parked most of day with a few short errands)
Day #4
12.59/12.68/14.2 EVIC (parked 24 hrs)
Day #5
12.57/12.66/14.2 EVIC (parked 24 hrs)
After finishing tests I chatted with Jerry on my findings and the term regenerative charging came from several I chatted with and I have also heard smart charging, we know the alternator is always turning 100% when the Jeep in running but it does not always put out 14+ as this is determined by the calculations the IBS does and the state of the batteries, but the regenerative/smart charging term from my understanding comes from the fact that the alternator ramps up to 100% during coasting and or a breaking event as this can be observed thru the EVIC display as the voltage ramps up to over 14+ volts and once stopped drops back down and in my searching and reading this helps with more HP, improved fuel economy by putting less drag on the motor but i may be misunderstanding this.
I think alot are confused on the Genesis system including me but Im not sure if moving the IBS to the main crank battery would yield measurable results, Jerry believes it would as due to the way the batteries are separated during startup, it would be a easy swap by just swapping the negative cable around and i will likely try that next , doing this would not effect the operation of the smart relay but since once started and the main crank battery sees above 13.2 for a few minutes the batteries connect if they were not already connected so who knows but my next test will be to move the IBS to the main crank battery
So far my system voltages seem normal and are doing the dance so to speak and my resting voltages even after sitting more than 24 hrs does not drop below 12.6 on either battery so maybe i need to do the swap and do do more voltage testing to see what it yields but for now since repairing my IBS all things have returned to normal.
Im quite sure I have rambled on enough and now with me getting into power detailing which is another rabbit hole it may be awhile before I revisit this.