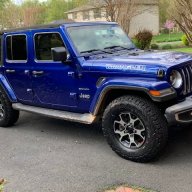 First Name

Jamie
Joined

Nov 30, 2017
Messages
Reaction score

532
Location
Vehicle(s)

2018 JLUS Ocean Blue
As soon as I saw a JKU with half doors I knew I wanted a pair for my '14 JKUR but the price was too steep for 4 Mopar 1/2 doors and uppers and I had my eye on a new '18 JLUS anyway so I didn't want to spend the time on new doors just to sell the jeep.
Enter 2018, bought new Ocean Blue JLUS and Backbone deck then waited for someone to come out with half doors. JCR was first to market and I bought the rear doors in Spring of '19 and had MAACO paint them for about $450. I loved them, loved the look, and loved the openness. No rattle, a lot of fun, and some protection from mud and rain on the trails.
2020, bought the front door pair had them painted and again, love them. No rattle, some protection, feels great to rest my arm on the door, jeep feels unique and somehow feels a lot more fun. But.....I was always worried about rain and soft uppers were needed but none were available on the market and I was tired of waiting so I bought the Bestop soft uppers for the front hoping they would fit the doors but the JCR doors were about 1" higher than the Bestop soft lowers so the windows were a bit big. I took the internal soft upper frames to a welding shop and for $60 had the frame shortened by 1 1/2" and the window fits OK, not great but serves my purpose, protect me and the jeep in the case of a big rain and I can keep the uppers in the back. I can drive about 60mph without too much flapping but I would never drive for more than an hour with the uppers installed (not designed for that). *** If you look closely you can see that the upper is still a bit big on the rear, I'm working on adjusting them and if I can't get them right I'll take them with the lowers, when I get them, back to the weld shop and shorten the rear by another 1".
Anyway, here are some pics. If you are looking for solid, paint matching lowers and soft uppers there is a solution out there if you do some work. I have the uppers for the rear on order and will post to this thread when they arrive. Hopefully I don't have to shorten them, we'll see.