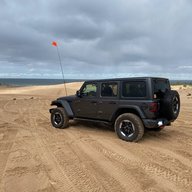 First Name

Brian
Joined

Jul 9, 2020
Threads
Messages
Reaction score

385
Location
Vehicle(s)

2020 Rubicon
So I bought a Jeep. Summer of 20, during a pandemic. Here's how I got here.
(this is mostly for posterity, in case by chance something I do helps/inspires someone else down the road).
I've had pickup trucks all my life. Drove pickups in various jobs as a kid. Got a pickup when I got my first real job. Way back as a kid my family used to go camping in a little pop-up camper....I still have fond memories of that. Remember going to RV shows a few times with my dad, remember going to a few RV dealers, but never "moved up" from that pop up. Did a bit of tent camping as a teen and in college. Nothing exotic...just always enjoyed it. But sports mostly stymied the camping bug along the way.
The camping is pertinent to the truck, which is eventually pertinent to the jeep. Once we established ourselves as a family and I got a more capable truck, we got a travel trailer and the camping itch was reborn. At this point in the story I'll just skip ahead. "Camping" along with some luck and work turned into a 5th wheel behind a Chevy Diesel Dually. This was my 2nd diesel-powered truck, and the 3rd diesel vehicle we owned. The diesel itch was strong. The power and mileage are hard to beat, especially the power.
But I learned that owning a diesel powered vehicle is a participatory experience. Sensors, fuels systems, etc...when things go wrong they are expensive, and when they go wrong with a 16,000lb RV behind you in the middle of an interstate near a major international city...it can be a character building experience. So when the most recent issue (mysteriously vanishing coolant) could not be solved, in conjunction with not dragging the RV around so much anymore, it was time to make a change. Im going to forget...so someone remind me sometime to talk about warranties and diesel rigs.
That change started as a search for a simple gas half-ton truck. Except there's no such thing anymore. On top of that, those "simple" gas half ton trucks are manufactured from some new version of un-obtanium that actually makes them considerably more expensive than that fairly well loaded up dually. Combine that with some very unpleasant dealership experiences this summer, I had arrived at a very frustrating impasse. I "needed" a new vehicle, and I had the green light from the finance minister.
Then came the night. I was a few beers in. Annoyed. Had even sold my soul and visited a Ford dealer (still havent forgiven myself for that) when a Jeep commercial rolled across the screen. Lightbulb! Jeeps are cool! The next day I hit the lots. This is where a new challenge emerged - buying a vehicle at the tail end of most quarantine periods/shutdowns. Inventory was tough...unless you wanted a silver Sahara, oddly enough (no offense intended towards silver Sahara's). There were a couple things I wanted though, one being a factory hitch package. That particular option was super hard to find. I know you can install a hitch on your own, blah blah. I wanted the factory one. The first one I found was a Rubicon. I was bitten, but that rubicon was missing another option I wanted - the winter package. The search continued.
Until I found her. This is the first pic...it also shows the first mod. Sticker removal. I didnt know at the time, but im some sort of weird Jeep owner that actually takes stickers OFF the rig.
If you made it this far - thanks! More of the story to come....
Last edited: