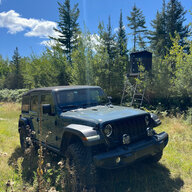 First Name

Chris
Joined

Aug 1, 2018
Threads
Messages
Reaction score

1,188
Location
Vehicle(s)

AP1 S2000, Rubicon 4xe
Occupation

Finance
I posted this on another board, thought you guys might be interested.

TL;DR: I love it and you should get one.



As of tomorrow, I'll have had my Jeep for exactly 6 months. I know this because I picked it up on my half birthday and tomorrow is my actual birthday. The odo currently stands at ~7450 miles, which is, umm, 74.5% of my annual lease mileage allowance, not 50% as it should be. Oops.


To recap, my Jeep is:

-Unlimited Sport S (Sport is the base, S adds power windows, door locks, standard A/C, etc etc)

-(base) 3.6L Pentastar V6

-8AT

-Dual tops

-cold weather group (heat seats, wheel, remote start)

-trailer group (hitch, bigger battery/alternator, aux switches)

-Alpine stereo

-tech package (7" touch screen with Uconnect and Apple Carplay, no native navigation, auto climate)

-homelink

-odds and ends like a bag for the soft top windows, all weather matts, etc.


Sticker was $45k-ish, and I got a few grand off on the lease without even trying hard.


I think that's it. Notably, I goofed and failed to order the limited slip, because I'm dumb. That said, I have noticed basically zero negative effects of not having it (the virtual brake-based LSD traction control is pretty good) but it still pisses me off.


I've done very little aftermarket stuff, just a shorty antenna (Amazon, like $12), and I have a Weathertech cargo mat supposed to be delivered today (the OEM one is really narrow to accommodate the cargo rails I don't have). I also took off the stupid Euro bumpers and tossed them. I replaced the crappy OEM light bulbs with some Sylvanias, they are a little better but not much. There are some things I'd like to do, but we'll get there as well.


What has gone wrong: Basically nothing. I have a cracked windshield (common) that I'll get fixed when it's no longer "dump rocks on the road" season (caught a rock off a truck). Thank you USAA for NOT offering a glass package in my insurance, the fix is the same as my deductible, ~$500. My rear defroster doesn't work because the little metal tab snapped off the rear glass; it's an extremely common flaw. I don't really care if I'm honest, the rear window doesn't really fog, and I guess there's a huge back order for rear glass as a result (they replace the whole glass piece, but the replacements are just as apt to fail). I'll address this at my first oil change (still at ~20% oil life) but it will probably be soft top season by then. Also, every once in a while I get a little handshake weirdness between my phone and the Uconnect, like the steering wheel controls won't work with the phone or something, but a jiggle of the cord or unplugging it and replugging it works fine. Who knows if that's the Jeep or Apple. Clearly, 7500 miles, nothing should have gone wrong, but first year of a new FCA model, I'm pretty thrilled. My FCA wariness is a huge reason why I leased instead of bought. I have had a couple instances of what I think was death wobble; I have a highway nearby with rather large expansion joints and it has only happened on that road hitting those joints. I'll mention it at my next service, but I am not worried about it.


What I like: Everything. Honestly. This was a huge departure for me, up until now I had only owned Japanese sedans and my S2000. This is like the opposite of those, and I love it. Everyone loves the damned thing, people at gas stations, my neighbors who don't care about cars, owners of older Jeeps, etc. Even my wife (who thought it was stupid) has come around and likes it. I love the Lego aspect of it, taking the doors off and fiddling with the roof and stuff. I love that it's a different vehicle in the winter when the HT goes on. I love that potholes and our terrible roads don't matter to this thing. I love that it's an absolute snow tank; I drove it to Northern WI last weekend in white-out conditions and it was rock solid in 4Hi. I love that it's fun to drive at normal speeds and you can just cruise around topless and not look like a jackass like when you're revving the S2000 to 9k and everyone hates you. I love that there is no pretense to the thing, not one person looks at it like it's a $45k wiener extension like they do when you buy a $45k 328i. I can drive it to my country club or to WalMart and not look like a jackass in either situation.


The thing is a way better road trip car than I expected, which is why I'm so far over on miles (I've made 5 trips to WI in it). It's a little noisy with the soft top, but with the HT it's perfectly acceptable, and the upright seating position is very comfortable. The performance is pretty good, it feels like it is considerably faster than my TSX was. The brakes are way better too. I tend to drive it slower and less aggressively; cruising at around 75 on the highways (speed limit of 70) versus 80-90 in the Acura. But it will do 100 or more, as I discovered passing slow cars on 2-lane roads over the weekend. Felt rock solid at that speed. Gas mileage has been great, ~20ish if you believe the trip computer, but what's key is that it will drink any cheap swill you feed it, so no need for premium which is now a huge cost savings. I can fill the tank around here for under $40. I have a rear-facing Britax car seat and a random booster seat for my kids in the car nearly 100% of the time and it works great for them; the car seat in particular is at perfect height to buckle my younger one in.


The stereo is awesome, with a big thumping 10" sub, and I'm sure the other speakers are great too but it's hard to tell because it isn't Lexus quiet. The infotainment is awesome, making my wife's 2G RDX look like it's 20 years old. I like that I don't have native Nav, Waze and Google Maps on Carplay are perfect, and the interface with Apple Music is pretty great. It doesn't work great with Pandora or Spotify, so I tend to not use those. I like that you can turn on the backup camera at any time; I use it pulling into my garage daily without having to shift into reverse to see if I'm all the way in (that's what she said). You can customize the tray at the bottom of the screen to include frequently used apps, and so the camera is there for me. It's useful for trailer towing too, something I've only done a couple times with a jet ski, but it worked fine. Trailer towing comes with the beefier battery and alternator, which I liked a lot when it was -26* here a few weeks ago and I didn't have to worry about whether the Jeep would start. I haven't used the aux switches for anything yet. I don't know if I will or not.


What I want to be different: There are several things I want from the higher trim levels. I really want the Rubi rock rails to finish off the lower part of the Jeep, I've been watching craigslist for them but nothing yet. You can get, for $500, proximity unlocking and locking on the higher trim levels, I wish I had that for loading kids in the car. I also wish I could have bought the LED light option available on higher trims, the aftermarket and Mopar LED kids are silly money ($1k-ish I think). But 95% of the time I'm in the suburbs and the lights are fine; it's only in the back woods where they are woefully inadequate. Lastly, the bigger 8.4" screen would be nice to have, but I really don't miss it and I don't need Uconnect nav, so it's not a big deal.


What's next and what I'd do differently: As you can see, I'm still in the honeymoon stage here. I love this thing, and I really can't see not having it. But there are a few ways I could go next. A lot depends on what Jeep does, I've heard rumors that the 3.6L is getting the mild 48v hybrid system at some point. I really am not interested in that, it adds complexity for minimal benefit IMO. If that's the case, I'll probably buy out my lease. And then I'd start thinking about making some changes, I'd go with the K02 tires from the Rubi on the stock wheels, and I might look into an axle swap to get the LSD. If they don't do the hybrid, I will likely lease another JL. I am tempted by the Rubicon for the appearance and because who doesn't want the "best" version of their vehicle, but if I'm honest, it's kind of a dumb move. You can only lock the lockers in 4Lo, which you aren't ever going to use on the road, and the lockers preclude the LSD, so in inclement weather it won't be any better than my Jeep, tire choices aside. But then I could get some of the above things that I want and can't get on a Sport. But it would be cheaper to just buy mine out and add those things in the aftermarket. So obviously I just talk myself in circles here. I think a lot depends on how reliable the Jeep is/isn't for the remainder of the lease.


On my Jeep, I'd love to add the rock rails, and if I need tires before lease end I'll go more aggressive. I would also like to do some aux lighting at some point, Mopar finally released their brackets for the plastic bumper. A couple cubes by the windshield and maybe some big round lights on the bumper (like you used to get stock on the TJ, I loved that look) would really help on the dark WI back roads (I don't care it's illegal, they're deserted). And I'd like to rig up some rear lights for use while hunting early morning/late night. Other than that, I don't really need to do much else to it, I'm pretty happy with it as-is.


In summary: I don't miss my S2000 in winter storage, and I REALLY don't miss my Acura, at all. The Jeep is perfect for my suburban driving on 45mph surface streets with 90* corners and terrible potholes and stop lights and cops and traffic. It is decent on the highway, and it's obviously excellent driving around the vacation property in either summer (towing toys, screwing around with light offroading, going topless/doorless) or winter (towing snowmobiles, handling deep snow). I thought I might get tired of the noisiness, the clumsiness, the poor quality, but none of those have really been true or bothersome. I can honestly say if I won a zillion dollars in Powerball tomorrow, I'd still keep my Jeep, or one very much like it, around as a regular driver.