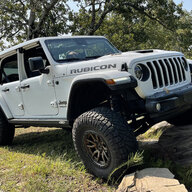 First Name

Ryan
Joined

Nov 26, 2018
Messages
Reaction score

47
Location
Vehicle(s)

'21 Wrangler Rubicon 392 * '20 Hemi JT * CJ5 * CJ7
Occupation

Realtor
Not to fuel the speculative fire, but I think we will get all get a pleasant surprise at MSRP when it's made official. I think the base MSRP will definitely be in the mid $60s. They won't sell these things higher than that. Nothing is official until it's official.

For what it's worth, in another thread on this forum, someone stated that the 27X Package (for 392) is a $30,545 option package, and the screenshots in this thread show that the way this was ordered is a Wrangler Sport with 27X Package. The $30,545 option on top of Wrangler Sport Base MSRP ($33,310 including destination) would give the 392 a Base MSRP of $63,855. I think that is where this thing is going to land.

For those comparing the 392 against the EcoDiesel and it's pricing, I think the Rubicon Diesel buyer and 392 buyer are very different buyers, buying their Wranglers for very different reasons.

For the OP and others that have ordered 392s, myself included, I am like a kid on Christmas waiting for official pricing, and crossing my fingers that we will get a nice surprise on the official price.
I've got my
that you're right.
I got a number on mine
like the OP here and while I can live with it if it's correct, I'm leaning more and more toward it being high, which would be a pleasant bonus. The wait is definitely tough