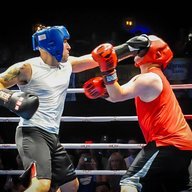 Joined

May 27, 2018
Messages
Reaction score

1,388
Location
Vehicle(s)

2020 JLUR, 2019 RAV4
Well, she finally got here. After a long a winding road- she's home. Fun story:
So I went to Classic jeep in arlington and decided to see about options. My Sahara was close to warranty and (as some remember on another thread) I was ready to just shut up and buy a rubicon.
Some back story- this same location was the site of the absolute worst experience I have ever had buying a Jeep. 3 vehicles ago, I literally sat for a combination of 15 hours to get my first wrangler. Several days, some until 10 pm, none of it more than trickery and suspect behavior. Let's say it ended with a lawyer and an apology from the owner.
I heard there was new ownership and I decided to see what they were about, as it is far closer than the one in Fort Worth (good people, by the way). The vehicle I found online was exactly how I wanted it, so I pop out onto the lot and see the thing with a ton of aftermarket. Well done, but in my head- "here we go, I'll be attacked with how much I want all of this". Instead, the sales person (Brianna) said she would see if there were other options and we went to looking. Suspect of the next part; "can we see your trade?" I hunkered in for the usual arguments. Instead, 10 minutes later, she comes back and asks what I wanted. Being internet savvy, I had my number. To my surprise- it matched exactly. Suspect of this, I asked what they found. Same vehicle and they honored the price 8% below invoice. Small negotiations later- I was happy and we went to finance. Dude was super cool, no pushy after products, easy conversation. 15 minutes max.
so I go home happy, but still in my car. They say it will be a few days to get it. A few days go by, and I get the call "sir, we have an issue". Of course they do. Nothing is simple with dealerships. I should have known. I get told the other dealer refused a trade, but they found another one. Keep in mind- I'm already signed up. I get the invoice- $5k more than the other. Basically every extra from the factory was on it. Angry, I said this wasn't going to work. She replied with "but would you want it?" Being slightly an ass, I say "well sure, but that's not the point" and she says to hold on.
10 minutes later I get a call and she says they will honor the bottom line. All the options reduced to the exact total I agreed on before. Essentially- The price was reduced to 16% off- same trade total.
having been a finance manager, you always know the rub. But honestly, no suspect stuff to deal with. Brand new, 2020, 70 miles on it. Amazingly happy.
so if you live in DFW, Classic is really a great place to visit. I won't speak for every dealer experience, but I can say this was easily the best, even before the issue.
oh, and here's my new garage mate- still pending a nickname: