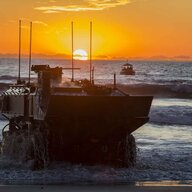 First Name

Jeepie
Joined

Nov 19, 2020
Threads
Messages
Reaction score

325
Location
Vehicle(s)

2020 JLU
Installing the radio base behind glovebox and utilizing the AUx switch wiring for power - If you have this set-up, where did you stash it and what did you use to secure it? Pics most appreciated.
I didn't like the plain screw provided by Rugged (why do they provide plain hardware) so here is the proper Mopar screw.
Antenna Cable routing utilizes available holes for fir tree style zip ties in 2 places and then a cable gland thru the available grommet (Auto's only). It provides a watertight pass-thru. Removed the plastic trim piece at the Driver's knees and secured the cable away from pedals and zip tied to aluminum support over to mid console. Used a wire fish tape from passenger side and easily routed cable thru and up behind glove box. Now - where and how to mount that base unit.
Finished product (at least the antenna mount and cable)
Base Mounted now - flipped so speaker is facing up just in case - located under Driver knee cover - getting there
Installed the rest of the radio components today – Bulkhead CAT connector thru lower passenger side foot-well panel
Cable across lower section of panel and out and up to radio base unit – this was the hardest part – the RJ45 is the same size as the clearance on the driver's side.
Radios mounted and couldn't be happier with the installation
here's a quick list of parts:
Rugged Radios Antenna Mount – MT-ANT-JEEP
Midland low profile antenna cable
Rugged Radios Coax Cable Cap for NMO mounts
3 foot CAT6 Extension – Male-Male
Anmest RJ45 Waterproof CAT Connector – female-female
Midland MXT275 Radio
Midland GXT1000 handheld
CMM Offroad Grab Bar Ball Mount
Jeepuniq Dual Radio Mount – CL-RAMBALL-L27-B-M1-3738
Midland 6db & 3db gain antennas depending on terrain
Last edited: