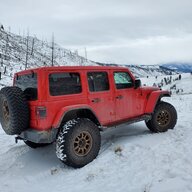 First Name

Roy
Joined

Nov 12, 2019
Messages
Reaction score

742
Location
Vehicle(s)

2020 JLUR 3.0 Diesel (FIRECRACKER RED), 2020 6.7L F350, 2011 QX56, 2005 5.9 Cummins
My experience echoes yours. My regens start at 80% and drop it down to 10%. If I interrupt the process, it won't recur until it reaches 80% again. Two other random observations:

Recently I was running an errand when a regen started. I experimented by leaving the Jeep running, locking the door, and running in to pick up my lunch - hoping the process would continue. It was still showing "on" when I exited the truck. Five minutes later, when I returned to the parking lot, the regen had stopped at some point midstream. Maybe as soon as I locked the door?
On two occasions the regen seemed to "get stuck" at a lower level, like 40%, and wouldn't drop any further. When I stopped the Jeep, the level immediately dropped to 10%. Not sure if it was a Scangauge issue or a Jeep issue as to why the display froze.
I think this is due to the sensors and their reporting scheme. Both of my newer diesel vehicles do this. The display showing the soot mass load seems to jump erratically the closer to 'empty' it gets. Steady fall from 78-80 and then somewhere around the 30's and 20's it jumps way down. Also they both seem to shoot past the low point and then bounce around there before they start their normal steady climb.
I don't believe there is anything wrong when this happens. Seems kinda sorta similar to how your distance to empty or range display will fluctuate. Nothing is really changing except the computers interpretation of the information it is seeing. Apples and oranges comparison I know.