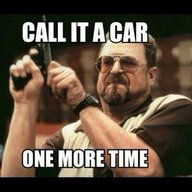 First Name

Mike
Joined

Aug 16, 2018
Messages
Reaction score

11,483
Location
Vehicle(s)

2019 JLUR Stingray 2.0 turbo
Vehicle Showcase
Oh goodness, I'm not in the market for one!

But I do like the way it looks, and want to see how it drives. Especially with the 2.3 liter, manual transmission and 4.70 axles.
My last statement in that post was more aimed towards anyone who's eyes come across it. I can sometimes come across as much against Broncos, as Fords marketing has made bronco owners against Wranglers. In reality, it's mostly in jest, but also the occasional pointing out certain design elements that counter its ability to give Wranglers the run for their money that Ford spent a lot of time claiming.
My wife was the one who had the initial interest in a 2 door Badlands, but canceled the reservation after her chosen local dealer wanted a $5k deposit before submitting her order and kept beating around the bush when asked about a full refund if it wasn't to her liking after a test drive.
I spotted 3 of them at a local dealer the other day, so we both still had enough curiosity to stop in and see them. My wife sat in the Base, to see how adjustable it was for her barely 4'11" stature. She tends to have issues with being able to properly rest her heel on the floor when on the throttle. Even with the seat all the way down and far enough forward for her to be on top of the steering wheel, her heel was still slightly unweighted. Nothing that couldn't get tweaked the same way as her current Nissan Juke, a small section of carpet padding under the floor mat in front of the pedal. Her final thought, without even being allowed to test drive it, was that it seemed huge to her. I pointed out that the 2 door that she wanted would fix that, but she said it was the width that she wasn't digging.
The dealer said that they wouldn't be allowing test drives until Ford goes into full production, and probably wouldn't drop their pricing down to msrp until sometime later when reservation lists are knocked down. So, we're both still interested in an eventual test drive, but she'll probably be in the Mini Countryman all4 JCW edition that's caught her eye by that time. She likes small and zippy rides.
Apologies for the ramble.