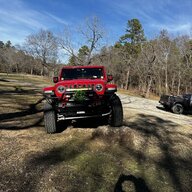 First Name

Vince
Joined

Dec 21, 2019
Messages
Reaction score

70
Location
Vehicle(s)

2020 2 Dr Rubicon JL Hardtop
You may be correct. Maybe I am the 1%. I have test driven every car I have ever purchased on the freeway. Come to think of it, my entire immediate family, and all of my brother in laws do too. So have several coworkers that I can think of and a few bosses. All test drive a car on city streets and the freeway. Not far, maybe 5 miles each way. I guess that we are all part of the "1%." How else are you going to know if you like the way it drives, accelerates, handles bumps, handles braking, handles cornering, Wind noise, etc, etc, etc.?
I don't bother with a test drive either. This is 2020 and I expect every car that I roll out has steering, acceleration, bump and corner handling and brakes. If in the off chance I buy used, yes, I'll drive it but new? Nope.
I learn more about a vehicle on a 12 hour road trip than a test drive and for learning winter capability, I just wait for winter. If you can determine all the pro's and con's in 5 miles, right on. The first 500 miles is pretty much a waste for me.