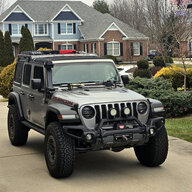 Joined

Oct 25, 2018
Messages
Reaction score

1,321
Location
Vehicle(s)

2018 JLUR
Occupation

Weekend keyboard mechanic and beer drinker
Vehicle Showcase
So today I finally swap my stock LCA with Mopar lift LCA, my JL is currently at stock height, but I hope that slightly longer LCA can give me a bit more caster. Also, it is Mopar so the dealer can't tell I swapped unless they look at it under a microscope.
As you can see in the picture, Mopar lift LCA is slightly longer than the stock LCA (measured by about 1/4 inch). In case you are interested in doing this mod, the part number for Mopar lift LCA is 68322798AA. If you want to use a new set of bolts and nuts, they are 6512085AA (bolt, M16-1.5x104mm) and 6104720AA (nut). The torque specs are 190 ft-lb. The 103 and 125 ft-lbs floating around the internet are from the old JK smaller bolt and nut specs, JL has a larger bolt so the torque should be much higher.
Some tips for your installation:
(1) Tools, tools, tools! Breaking free LCA requires a 21 mm deep socket and 24 mm wrench, since the space is really limited under the car, you need to have an impact wrench that can deliver good torque.
(2) The new LCA will be longer, so you need to jack up the frame slightly (shown in another picture, please ignore the crappy bottle jack setup, I am just too lazy to pull my 3-ton). This will move axle forward and help align the holes.. Once you push one side in, the other side should be easy since the axle is already moved.
(3) I put a tiny bit of anti-seize in the LCA mount, does not hurt to have a little bit.
Update

:

not sure if it is placebo, but my Rubicon now tracks super straight, I can keep it straight at 70 mph with one finger. I will do an alignment next week to see how much caster I gain but it is definitely a much improvement.
Last edited: