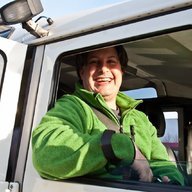 First Name

duane
Joined

Oct 11, 2019
Messages
Reaction score

190
Location
Vehicle(s)

2020 Firecracker JLU Rubicon w/a snail
Occupation

Marketing
After realizing I've taken 3 vacation days in 2020 so far, I decided a break was in order. So later this month, I'm going to take a few days and go do the Mojave Road. East to West, I think...
Plan is pretty standard:
...load Jeep, drive, camp, drive, camp, drive...
Jeep is ready. We have the gear. We have the experience. We have backup plans. We have a strong will to live, so bailing out is always an option. We have at least 3 ways to cook, so ... yeah! Food! Because we'll be overlanding here, we will have a CB, a HAM (KN6GYI) and my older Delorme InReach. We'll have an extra 8 gallons of gas, probably close to 10 gallons of water (2 people, 3days), a stocked fridge, a 16x12 fly for shade, 2 tables, 2 chairs, roughly 6,000 sq ft of papers maps covering every inch of the West Coast, 4 GPS-capable devices, and all the sundry little bits like body wipes, cooking gear, cleaning supplies, first aid, recovery gear, a couple of big power sources (Jackery 500 plus another Rando-brand 300-level unit), extra rope, shovels, a mallet, pry bar, tools, holy crap, the list just goes on and on...because...overlanding. Did I mention I also have a sink. Collapsible, but still, insert kitchen sink joke here...
And yes, I believe 50% of this is over-prepping and 50% is covering our bases because, we'll, it's the desert. Laugh or applaud, I'm cool with either.
The only unanswered question in my mind is the water hole near the Eastern end of the road. Frankly, I can take or leave water crossings. Deeper ones, at least. Shallow I don't worry about.
But deeper? Yeah, I'll take a bypass rather than risk swampy water in my carpets. Been there before, chose differently before.
Does anyone know if there IS a way to bypass that water hole AT/NEAR the water hole? I understand you can backtrack a ways, head to the nearby road, go around and come back from the opposite direction if you really want those last few miles.
Obviously if the water isn't deep, this whole question is moot, but figured I'd ask in case someone knows. Not keen on blazing a new path around the obstacle myself. I'd rather respect the land and backtrack a ways.
Should be a fun couple of nights under the stars. That, or either my wife or I will have said...nope...and we'll be back home in Camarillo sooner than expected, rethinking our approach for future trips.
Had a blast exploring down Saline Road a few weekends back, with dinner overlooking the Panamint Valley. No overnight on that trip, but I fully loaded us out as if we were, to (literally) make it a shake down run (that road is rough!). The only real changes I'm making are the addition of a 12v fridge for this trip (want, not need) and tire deflation gear (Staun-style deflators). Oh, and I got us one of those fold up toilet seat rigs...because we are NOT animals!!!