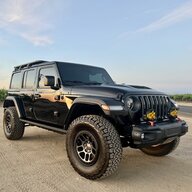 First Name

Kyle
Joined

Feb 13, 2018
Messages
Reaction score

458
Location
Vehicle(s)

Jeep Wrangler JL Rubicon
Hey Everyone,
So I've had my fair share of jeeps from 2 doors to 4. When the pandemic hit I had to Switch over to a truck to haul around more equipment (I'm a fitness trainer) so i went to a JT Mojave. 4 months later I found myself hating the JT, it just wasn't my wrangler. I ended up driving down to Rydell Jeep in Southern California and picking up my 2 Door Rubicon while trading in my JT for basically what I paid for. Shout out to them. Anyways I wanted the Mojave hood for the 2 door and searched the Forum. Here is the true parts breakdown if you want to make the conversion.
Parts / Part #
Hood 68338381AC
Bezel 68398765AB
L/Seal 68405001AB
R/Seal 68405000AB
Hood Liner 68346961AA
Push Pins x 12 6504135
F/Seal 68295588AB
Side Seals x2 68272214AA
Cowl Panel 6NT06TZZAA
Left Cowl 6NT09TZZAA
Right Cowl 6NT08TZZAA
Lower cowl 68291874AC
Hood hinges x 2 68302114AB
SCREW. Cross Recessed Head. x 4 06512790AA
Cost was about $1018 total
Now couple things the be aware of, Everything mounts up but since the hood is a little bit taller the sensor doesn't turn off. Easy fix just added a couple plastic push pins that fit the hole and it turned off.
*The last two part numbers (hood Hinge and Bolts) are a must. the Rubicon Hinges are just barely off enough to not seat the hinges. The bolts that go to the upper cowl when you make the swap are much longer than the Rubicon hood so those have to be swapped out.
**the spring for the hood fits from the Rubicon hood but you have to break off the little lip and turn the spring sideways.
***Everything else from Rubicon hood is a direct swap and attaches to the Mojave hood. Side cowls will use the existing bolts from the Rubicon with the exception of the top cowl.
I've heard that my JL looks "BEEFY" haha but overall I love the look. Yeah it's not functional but that hood makes the wrangler pop in my opinion. I will slap on the rubicon decals this week and its pretty much dialed in. Sorry for the rant but wanted to give out the true part numbers for those of you that are interested in the Hood swap.
Last edited by a moderator: